As I mentioned at the end of my last blog, Wednesday night
for Cian was with his mum… and as I hoped, both slept as peacefully as a night
in hospital can be.
I too had a good night sleep at home.. that may sound a bit
obvious, but good sleep is more a luxury now, so I welcome it whenever it
happens. It's also a necessity to ensure
that we have the strength to support our whole family.
Mummy Case said that although Cian had a good night sleep,
he woke up grumpy due to the pain he was still experiencing. His mood wouldn't get any better as he was
now 'nil by mouth' for a few hours in preparation of his impending operation.
Me on the other hand, had it relatively easy getting our
other 2 (Dylan and Bethany) ready at home for their school trip.
They haven't been in school all week, as my emergency recall
to hospital early on Monday morning meant that our fragile routine of
alternating looking after our well children at home and taking them to school,
while the other parent nursed Cian at hospital was sent into disarray. As it is the last week before the Christmas
break, their school was sympathetic and allowed the children the time off.
But today was their annual Christmas outing to the New Theatre,
Cardiff to see the pantomime; which this year is Aladdin. So we met the school at the Theatre and I
even managed to blag a spare ticket to see the performance with the kids.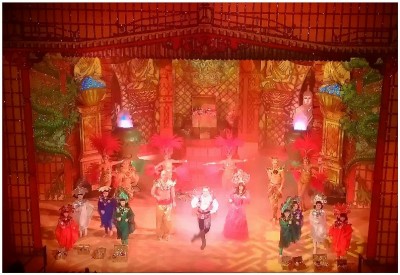 However, it certainly didn't escape me that at the same time
the curtain was going up, Cian was in a completely different theatre only a
mile away; but his experience was far less appealing.
For Lorraine and I it is a priority that we keep things as
normal as possible for our other two, as easy as it would be to purely focus on
Cian… to the point that we had a slight 'ticking off' from a senior doctor as I
missed a rather important consultation to ensure that one of us attended their nativity. Something I do not regret for an instant.
All the children from the school (and me) loved the panto and
definitely joined in with the audience participation. It's great seeing children laughing and
enjoying themselves, and it has even more significance at the moment.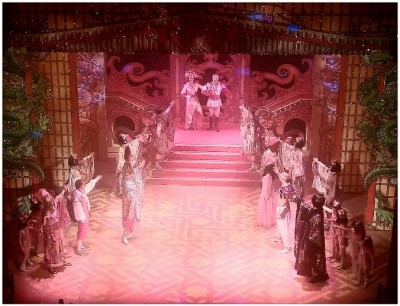 Not that life on Rainbow Ward is full of children feeling sorry
for themselves and despair. Yes, you can
hear the sound of seriously ill children vomiting and/or crying resonating in
the corridors now and again; but the majority of the time these inspirational
kids can often be seen smiling and laughing.
Especially when they are visited by special guests!
This afternoon whilst we were all in our respective
theatres, The Welsh Guards (in conjunction with Dreams and Wishes) were on
the ward distributing Christmas presents.
Unfortunately Cian yet again missed the visitors, but they did leave
presents on his bed ready to welcome him back from his op.
Cian arrived back to his room with mum just before 5pm. There to greet him, were me; his brother and sister;
and his uncle G (my brother Gareth).
He wasn't in a fantastic mood, but it was considerably
better than the last time he woke from General Anaesthetic where he was verging
on psychotic. Now Cian is usually a
placid kid, and not the kind that commonly throws a tantrum… but when he does,
usually through a sense of injustice, it can be quite a challenge to calm him.
So now Cian finally has a Hickman Line installed. For those of you who are curious about the
Hickman Line, I have included a photo of Chemo
Duck with one surgically implanted.
Cian got his Chemo Duck
today. I have to admit, when I heard
this thing existed I questioned its value; but after seeing him it makes total
sense as a way to portray to children the different aspects of the treatment…
and you can't help but fall in love with the little yellow fellow.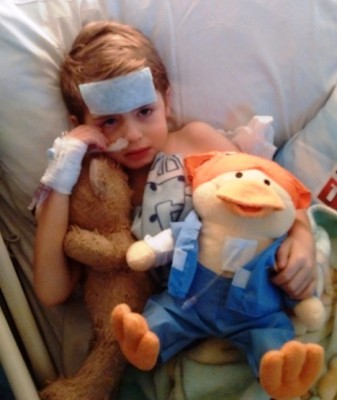 I got to spend a couple of hours with Cian this evening
while Uncle G entertained his siblings in the Playroom, before heading back
home hopefully to leave mum to have another peaceful night.
Dylan and Bethany will be going into school for the final
day of term tomorrow. The whole family
will be wearing our Christmas jumpers in support of Text Santa. Although that cause do not appear to aid any
of the charities that are assisting us, they are helping others in a similar
position.