Tuesday night saw Cian have a mammoth 13 hour sleep, which
was great as I managed to complete 2 posts for the blog whilst it was my turn
on ward duty.
He did wake a few times to have a couple of drinks, which
didn't disturb his sleep too much. Also,
as his breathing rate had increased the 'night nurses' did a few extra
observations.. some of which involved prising Cian's eyes open and shining a
light into them. Again Cian managed to
fall back asleep without too much complaint; which is more than what I could
say if they tried that on me!!
To put your minds at rest, the elevated breathing is a
likely side effect of one of the new drugs he is being given, and should not
have any nasty adverse reactions, or cause discomfort/pain.
Now after a few very good days, we were always going to have
a little dip, and Wednesday morning proved to be just that; but a 13 hour
snooze is going to make you feel a little achy, even without mobility issues.
But Cian and dad were not going to let a few aches and pains
stop us from having fun, so after a ham sandwich and milk breakfast it was time
to head to the playroom for some Cian Christmas Craft Corner.
There to meet us was Kimberley, the princess of the playroom
and all round superstar… I am grovelling a little here as I was reprimanded for
referring to her as a 'play assistant' in a previous post… when actually she is
a play specialist! Apparently, you need
extra qualifications to become special at playing, rather than assisting!
But on a serious note, they don't just interact with the
children, they gain their trust; explain complex treatments in a way that the
children can understand; become a confidante for child; and even arrange and
coordinate the many visits to the ward by special guests and VIP's.
Today we made a few Christmas decorations with cut out
shapes that Cian could colour while Kimberley made a mess with the glitter glue. It's great fun, but Cian's attention span
soon waned and we were off to see the fish before we could get asked to help
tidy up!
When we got back to the ward, we had another visit from 'The
Big Man in Red'.. and this Santa definitely looked the part, as he was quite a
tall and booming chap.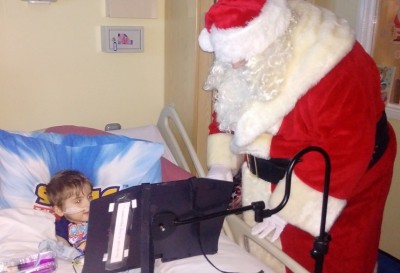 The afternoon was extremely busy, as we were visited by my
dad; Mummy Case's Aunt and Cousin; a social worker assessing Cian's disability
needs; the physiotherapist; the dietician wanting to weigh Cian; and our
oncology consultant… as well as the nurses wanting to do whatever they need to
with Cian.
This all happened within a very short period and organised chaos
ensued for a while.. but lots of things got done. Mummy Case and I had another
positivity-ectomy by the consultant as we were once again taken through all the
nasty side effects that come with the next round of chemo before being asked to
consent
Cian also had his hair cut short. He was severely overdue a haircut before he
was admitted into hospital, so it definitely needed a trim. But as his treatment now gets into full
swing, we are anticipating the loss of his hair; so we wanted it shorter than
usual so it doesn't come as much of a shock and hopefully cause a little less irritation
than if hair was falling out in large clumps.
The before shot….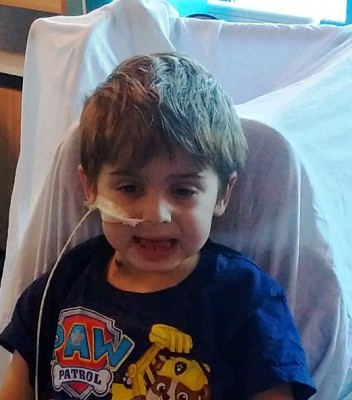 So our little soldier, now has the haircut to match the
title!
The after shot…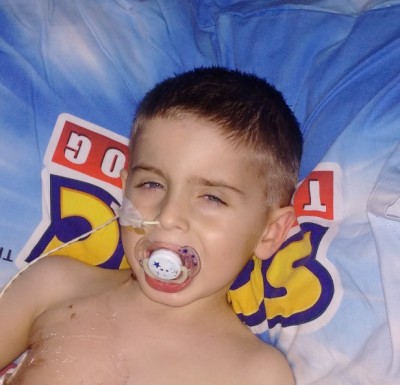 In the late afternoon, I decided to take Dylan and Bethany
into Cardiff City Centre to do a little last minute shopping, as is a man's prerogative;
as well as treating them to a few rides in the Winter Wonderland.
When we arrived back at the ward, Cian was fast asleep and
starting quite possibly another marathon slumber. So as I have him again tonight I can
hopefully look forward to a good night's sleep.