Hope you all had a fantastically festive Christmas!!
As some of you may be aware, not long after I posted my
previous blog on Christmas Eve, we were visited by someone special… no, I'm not
talking about Santa; but Real Madrid and Wales footballer Gareth Bale.
Most of the VIP visits to the ward over Christmas were
pre-planned and we were aware of who would be arriving at any given point; but
Gareth turning up on Christmas Eve was a total shock.
I was in my scruffs as we were just preparing to bath
Cian ready to get him into his new PJ's and the arrival of Santa. If I had
known of Gareth's visit I would have at least been wearing my Wales shirt,
which I'd only changed a half hour earlier.
There was no media accompanying him, so you could tell
it was a gesture that he wanted to perform rather than feeling obliged to.
Gareth was genuinely interested in Cian and his
condition and gave Cian a Spiderman present for Christmas. He was also happy to
pose for a photo with the family which his lovely girlfriend volunteered to
take.
Although you would never choose to spend Christmas at
hospital, the nurses on Rainbow Ward did everything to make it as special at
possible.
The whole family were allowed to stay overnight on
Christmas Eve in Cian's room so we could all wake together on Christmas morning.
Cian probably has the largest room on
the ward with spaces for 3 patient beds and as many pull-down guest beds, so we
were comfortably spread out.
We put out our 'Santa Stop Here' sign outside the door
together with treats for Father Christmas and the reindeer and settled down for
the night.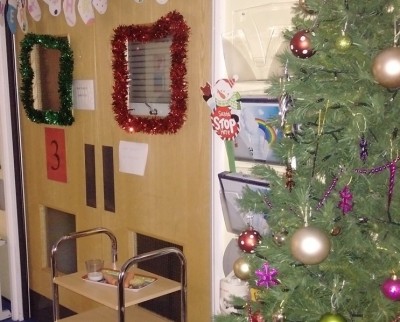 Unfortunately there was a little drama which meant we
couldn't fully relax until gone 11pm, but nothing too serious that would elaborating
on here.
The nurses that were working that night certainly went
above and beyond the call of duty, for as well as performing all their usual
functions, they also took on the role of Santa's little helpers by delivering
presents to all the children. As well as
the presents provided by the charities, they also supplied the prezzies that we
very carefully imported into the hospital and had to move a number of times to
different locations in preparation for Operation Distribution.
They managed to deliver so deftly that none of the
children even twitched, so at least it's kept the magic of Christmas alive for
another year, when it could have so easily been ruined.
Christmas morning contained the usual mayhem of very
excited children opening their goodies, although Cian (who has pretty lethargic
for a few days) found it difficult to keep pace with his brother and sister.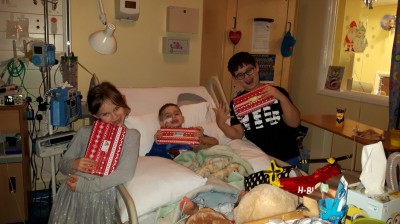 Although the catering trolley had Christmas Dinners
for the family, we were also treated to a festive feast brought in by the
in-laws; on top of the nibbles, treats, chocolates and drinks (non-alcoholic)
provided by the nurses and charities; we were never likely to starve.
Our friends Rhys and Steph visited in the evening,
together with their son Dylan (Cian's friend).
They were able to update us on the Christmas morning dip into the
Bristol Channel that Rhys and The Proudfoots (Helen & Ian) took part in on
behalf of Cian.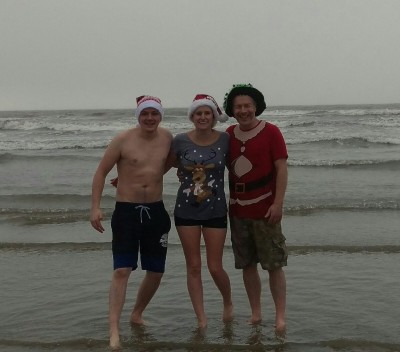 Can I also make a
special mention to the staff at British Airways Maintenance Cardiff, where Ian Proudfoot
and his colleagues raised over £1,000 in a dress down day, and management dispensing
Christmas Dinners to staff.
Boxing Day was also a bit of a struggle for Cian as he
was still a little uncomfortable and tired.
There was an episode where mum took a well-deserved break to freshen up,
and Cian was inconsolable and the presence of dad was just making things
worse. This made me feel a 'little teary',
much to the amusement of Dylan and Bethany who have never seen their dad upset
before. I never knew I had such sadistic
kids!!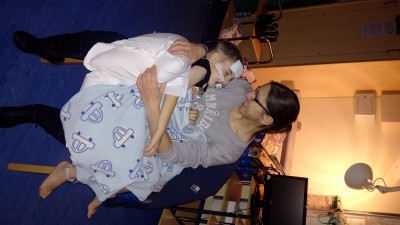 Cian's mood improved when we had visits from his Aunty
Sarah and Uncle Darren & Uncle Gareth in the afternoon and evening.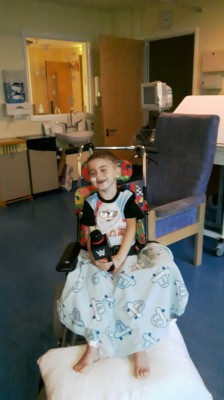 Well that was our Christmas and Boxing Day. We would love to hear how yours were! Especially, if they involve embarrassing stories.