Cian slept from shortly after half past 2 on Friday afternoon
to half past 7 on Saturday morning. Even
by Cian's standards that is pretty impressive!
He did wake a few times with different episodes of tummy and
head pain, which usually subsided once his body was able to 'relieve itself'.
The problem you have with this chemo, is not just the
strength of the drugs, but also the sheer volume of fluids that is being pumped
around his system. Now his body will be
absorbing some of it, but there also has to be waste…. That's the last I'll
mention regarding that, but as it is one of the only noticeable side effects we
are experiencing at the moment; it's worth mentioning.
When Cian woke, he was in a level of discomfort that was a
little concerning as he had been in good spirits for the previous few
days. Fortunately, once a delicate
procedure was carried out on Cian… again the less said the better…. He was in a
good mood playing and laughing.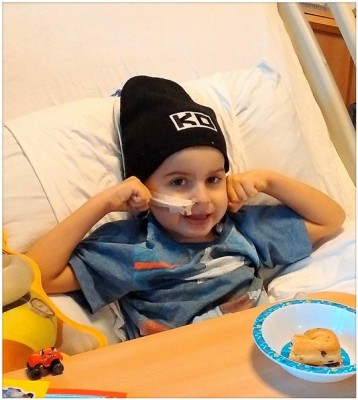 He also decided to forgo Ham Sandwiches for lunch and have
pasta from the trolley. His appetite
seems to be fine, the only problem we may have is keeping him awake long enough
to have more than just breakfast and lunch!
Dylan, Bethany and I left just before 3, accompanied by
Uncle G. We were heading back to
Llanharan to attend the fun and games event being held for Cian at the Rugby
Club. It was originally scheduled to
start following the game between Llanharan and RGC1404; but as that was a
victim to the atrocious weather, it was brought forward an hour.
It may have been wet and miserable outside, but that did
nothing to dampen the spirits of everyone who turned up… of which there were
many!!
It was a fantastic turnout, and loads of fun was had by
children and adults alike, as they took part in stuff such as darts; Wii Sports
Bowling; Beer Pong (minus the beer); passing a rugby ball through a target;
face painting; and a raffle.
I keep having a go at Dylan for playing too many video
games, and that it could never amount to anything… but I was proved wrong as he
won the Wii Sports Bowling competition.
I thought I might have retained some of the darts form that
allowed me to beat former World Champion John Part in an exhibition game a few
years ago… unfortunately I was pretty abysmal.
It came as a huge shock to hear that over £600 was raised,
on top of a further £200 raised by the club via a raffle on Boxing Day.
This event was originally scheduled to raise money for the rugby
boys to go on tour, so we have to thank them for sacrificing that for Cian!
Once the raffle was completed, the youngsters all got
together for a photo and get well soon message for Cian; they also sang the
club song, which Cian always loved to sing at the end of training:
"Black and Blue are the colours,
Rugby is the game,
We're all together,
And winning is our
aim,
So cheer us on
through the wind and rain,
Llanharan, Llanharan
is our name."
//ilo-static.cdn-one.com/iloapp/gallery/html/embed.html?albumId%3D1%26videoId%3D2%26galleryLocation%3Dgallery%26domainName%3Dciansstory.uk%26pUrl%3D%2F%2Filoapp.ciansstory.uk%2Fdata%2F_gallery%2Fpublic%2F1%2F145181039904177200_thumb.jpg%26nUrl%3D%2F%2Filoapp.ciansstory.uk%2Fvideo%2Fpublic%2F1%2F145181039904177200_normal.mp4%26mUrl%3D%2F%2Filoapp.ciansstory.uk%2Fvideo%2Fpublic%2F1%2F145181039904177200_mobile.mp4
Cian would have loved to be at that event, so let's hope we can get him home so he can say thank you to everyone in person!
I will be showing Cian all these tomorrow, as by late
afternoon, Cian was back asleep and ready for his final lot of chemo for the
week… or so we thought.
There appears to have been an administrative error with Cian's
medication, so we need to know how this is likely to affect plans; but again
that is something that will be addressed tomorrow morning.