Waking up in Llanharan was an odd sensation this morning,
but at least being at home allowed me to catch up with some washing! Oh, the simple pleasures!
And at least it's not too far away from Cian and mum. I have managed to create a setting on my
phone that will only alert me if there is a text or a call, so if I am
needed I can be contacted without being disturbed by any random app notifications.
Communication is so easy at the moment, to the point that
Cian could speak to his big sis Jessica and niece Skylah on Facetime this
afternoon using the iPad he has been loaned by the hospital . It always baffles me how we would have coped
even just a few years ago!
He also uses the iPad and stand for watching all his favourite shows on Netflix and the BBC IPlayer, as you can see from the below picture of him 'chilling'!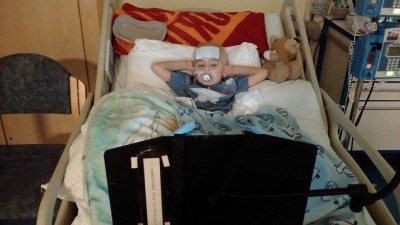 I was also able to show Cian all the photos and videos from
yesterday's fun and games at Llanharan RFC.
This brought a smile to his face… as did the present of a Virginia Tech
Hokies throw he received from my friends in the US. This now has pride of place in his bed.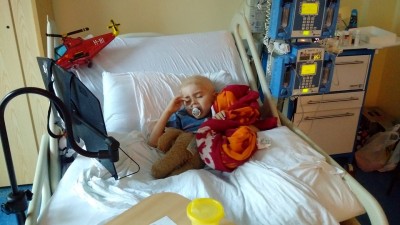 On top of this, I am also using my laptop, tablet or smartphone on the hospital wifi to create these blogs; and keep everyone updated on what's been happening.
This was Cian's first day off chemo, and he hasn't been too
bad at all. He is suffering with a bit
of a dodgy belly, but nothing that we can't cope with.
Cian was treated to a McDonalds this afternoon as he wasn't
keen on the fish fingers from the trolley. Although fast food is often frowned
upon in the majority of the hospital, it is at least forgiven on the children's
wards. It is more imperative that the
children have an appetite and that they don't lose weight. This was more important for Cian, as he wasn't
very heavy when admitted to hospital.
We also had visitors this afternoon as our friends Ian and
Sarah popped in with their daughters. I
may have slightly manufactured the visit as Ian is a Spurs supporter and as
they were playing my team, Everton, it meant we could spend a couple of hours
watching the game and catching up, while the kids played and the women
gossiped. A good result for all!
The only problem was that the bar on the site of the
hospital was closed, so we had to venture further afield for the match.
I am now writing this blog at gone 9 o'clock at night and
Cian is still awake… this is much later than previous days. I need him to fall asleep quite soon as we
have a big day tomorrow… Cian's radiotherapy kicks off!
We need to get to Velindre Cancer Centre at about 8am. As if the early start wasn't bad enough, the
fact that Cian is going under General Anaesthetic means that he can't have food
after 2am and drink after 6am.