Since Cian had his chemotherapy on Monday we are now
starting to see the first of his side effects… Mucositis.
These are sores and ulcers that line the tongue, mouth and
throat. This is because the drugs
interact with fast reproducing cells, and those areas are prime examples.
This is only affecting Cian when he wants to eat or drink
something, and it gives him the sensation that whatever is going into his mouth
is too hot.
There are a few different things to give him to try to ease
any pain, but it is not easy.
Over the last few weeks we have seen Cian put on a couple of
kilos and maintain a healthy weight.
This was necessary as it was always envisaged that he might either not
want to eat for being too tired, or suffering these kinds of symptoms.
It is likely that Cian may have to have additional food
through a tube to supplement anything he does take orally.
If he doesn't have enough nutrition, Cian is not going to
have the energy of complete any physio.. which he will definitely need, as over
the last few days they have been giving him 2 sessions per day!
The ward has started to get a little busier this week, which
is never good for a children's cancer ward.
There are lots of different cancers that effect kids, but
they seem to be primarily split into 2… fluids and solids.
The fluids refer to cancer of the blood, like the many types
of leukaemia; and the solids would be the tumour based cancers.
Leukaemia probably accounts for most of the children on the
ward. I'm not sure whether this is
because it is more common, or whether it is to do with the length of the
treatment. Treatment for leukaemia can
take 2-3 years and differs between boys and girls, but thankfully the outcomes
are generally quite good. Patients would
not be expected to remain in hospital for that length of time, and often
requires attendance only when treatment is required.
It seems that tumours usually require surgery combined with
intensive chemotherapy and radiotherapy, just like Cian. This should take 6-9 months providing there
are no complications. Childhood tumours
appear to be particularly aggressive and survival rates in some of the types
are still not favourable. I think it is
more common for these patients to spend more time hospitalised.
Now Cian has more independence since receiving his
self-propelled wheelchair and that some of the pain he was experiencing in the
first few months has subsided, he is starting to make a few friends around the
ward.
And as children with new diagnosis are arriving Cian is not
too bothered about sharing his experiences with them.. all positive. He has shown children his wiggly (hickman
line) and his NG tube, and will explain in simple terms what they are for. This will hopefully put their minds at ease a
little, even if the experience will still not be pleasant.
What is remarkable about these children (Cian included),
that no matter how traumatising a certain treatment or procedure is, they
bounce back from it relatively quickly.
As I have mentioned, Cian loves it at the hospital, and if I think of
all the things he has had to endure, it is difficult to understand why?!
Today we have had Dylan and Bethany here to finish off their
half term. For the rest of the week they
have attended local holiday clubs to keep them in their normal routine; but they have at least managed to get to see
Cian go about his normal routine, and even take part in his physio, as we went
Golfin' in Dolphin.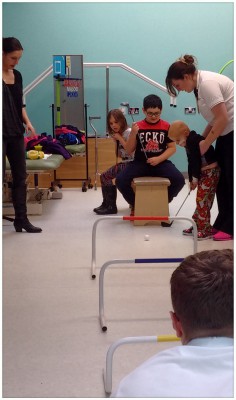 Cian likes physio in the Dolphin Zone and has even started
combined sessions with one of his friends on the ward. That seems to bring out the best in both of
them as Cian much prefers having others around him
… although he does like to
have all the healthcare professionals giving all the attention his way!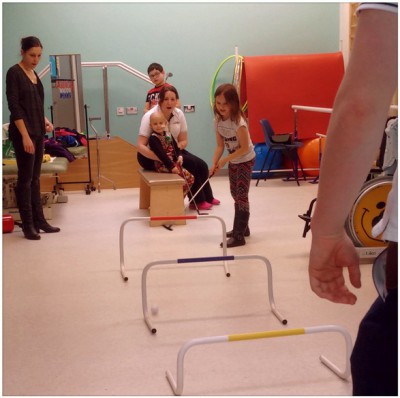 I am on Cian duty tonight where we have just watched the
Ospreys beat Edinburgh in rugby. He has
taken a great interest in the rules of the game and we had a great chat. Cian wants to be a scrum-half and is looking
forward to getting back on the pitch! He was visited by 2 international
scrum-halfs (or is it scrums-halves?) over Christmas, so hopefully some of
their magic has rubbed off on him.
Hopefully Cian will be ok overnight, so we can have him home
for Saturday and Sunday!