As my last blog was last Friday, we have lots to catch up on…
the first question is whether Cian made it home at the weekend?
The answer is YES!
Cian was given permission to stay overnight for 2 nights (Saturday and
Sunday).
There was one slight obstacle to overcome… as Cian had
resumed his chemotherapy at the start of the week, he had to have Granulocyte-Colony
Stimulating Factor, or G-CSF as it is referred to on the ward.
G-CSF is given daily for a period of time after chemo to
help boost the immune system.
While at the hospital, this is a painless process as it can
be given intravenously (IV) via Cian's wiggly… but as we lowly parents have not
had the training to give anything IV at home, it would need to be administered
via an injection in the fatty tissue of the upper leg!
As you can imagine Cian is not going to like an injection,
and as parents it's not a job we are going to want to perform; but if doing-so
means we will have Cian for 48 hours at home, then it is a must.
Although mum has a fear of needles, she was adamant that she
would have the task of giving the jab!
She was given the training and performed admirably under the
watchful eye of the nurses… but could she do it without the comfort blanket of
having medical staff on hand?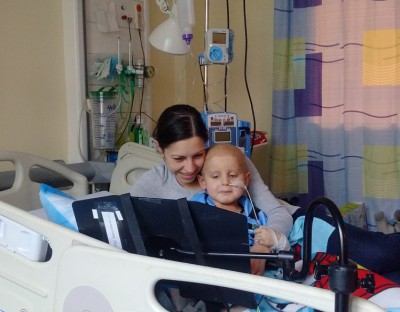 Anyway, we got home just before lunchtime on Saturday. It was a nice clean home, as we had the
downstairs thoroughly cleaned by a former school-friend (Hayley) and her mum
(Gaynor). Although I like to think that
the house wasn't particularly dirty, it was important to have all the surfaces
dusted and disinfected as Cian was wide-open to infection following chemo.
Saturday afternoon was all about enjoying each-others
company in the comfort of our own home.
We don't get to spend huge amounts of time with the kids, as there are
always jobs preparing medications and feeds for Cian. This certainly gives us an appreciation for
those who are long term carers; but hopefully the amount of daily drugs will
considerably reduce once treatment stops.
Sunday started with a little bit of excitement as Cian had a
few visitors; Ian, Steve and flumpy (Cian's rugby coaches); and Rhys &
Steph (our friends who organised some of the local fundraising).
The coaches were there as in the rugby club later in the day,
all of Cian's rugby tot mates were being presented with medals and shirts. Although Cian would have loved to be with
them, he was unable to due to the dangers of being in a large crowd and the
associated risk of infections. So Cian
got his at home. He was so pleased!!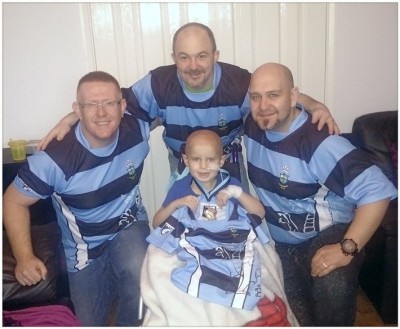 Rhys and Steph had a very large cheque to hand over. Between the Just Giving Page that they set up
and the Ladies Night over eight and-a-half thousand pounds was raised.
The figure raised on the Ladies Night was boosted by a
£1,000 donation from the friends and family of Jonathan 'Butty' Evans who was
tragically killed in a farming accident in Kidwelly. They have raised money following his death
and 2014 and chose Cian as a recipient of some of that money. Although they are from West Wales, they have
close family links to the Llanharan area.
We promise to use that money wisely and in-so-doing, honouring Jon's
memory.
The rest of Sunday we maintained some normality, although we
were starting to get a little concerned as Cian was starting to experience a
little bit of tummy pain.
A side effect to the chemo is constipation and Cian was
starting to feel the effects; and this together with the mucositis affecting
his mouth, he wasn't eating and drinking too well.
This lasted overnight and resulted in Cian (and mum) not
having the best of night's sleep.
So Monday morning Cian was transported back to hospital,
where he remained in quite a degree of discomfort for most of the day. It is not very nice to see him in this
condition and it has been a while since he has been this poorly.
You could tell how bad he was feeling by him turning down
physio!
He had visitors in the evening as my sister Cathy arrived
with Pamela Williams, who was representing the Treharris and Nelson Ladies
Darts League who had collected £300 for Cian.
We are extremely grateful, it's just a shame that they didn't get to see
him well.
He was also visited by mum's friend Aunty Scary (Chi) came
to see him.
Monday night with mum was another uncomfortable night for
Cian which ended him being sick and bringing up his NG tube.
We think that this is a continuation of the problems he is
having with his digestive system rather than any additional side effect rearing
its head.
Even though Tuesday has still not resulted in any movement
below, he has been a bit more mobile while he has not been in pain. He has spent some time in the playroom being
creative in preparation for St. David's Day, and playing on video games. We also managed a session of light physio,
which was in hope that movement and standing will have a positive effect on his
bowels.
He has also had a couple of things arrive by post, which is
always nice.
First was a book of Fungus the Bogeyman, from family
friends, which we are looking forward to reading; and the second package was….
A Star Award from Cancer Research UK Kids & Teens. This is an award that I nominated Cian for
last week, in recognition of his courage since being diagnosed with cancer.
The award consists of a T-shirt, a trophy, a
celebrity-endorsed certificate, and a £50 voucher for TK Maxx, who partner
Cancer Research UK Kids & Teens for this venture.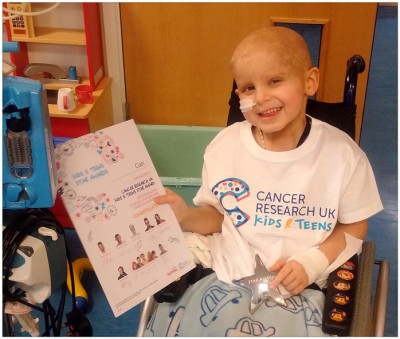 Also in the pack were certificates for Dylan and Bethany for
the role that they play as supportive siblings.
I am always very pleased when they are rewarded and not forgotten on
this journey!
As dad is on duty for the next 2 nights, I am hoping that
Cian gets some quick and easy relief. He
has plenty of encouragement from medication, we just need for something to
happen quickly. His next dose of chemo
has already been delayed by 2 days as a result of his constipation.
We are quietly confident that once this little demon has
been exercised, a lot of the other symptoms he's experiencing will disperse!