I can't believe I'm writing a blog on a Saturday afternoon,
but that is a consequence of current goings-on.
Let's start with the positives:
·
* Cian has had a follow-up hearing test which
shows that there is improvement since his previous one to the point that it is
now within the normal range expected for a child at his age. The previous low reading can now be put down
to the dry flaky skin within his ears following the radiotherapy. This was cleared with olive oil drops.
· *
Ultrasound scans of his bladder and kidneys show
no real areas for concern.
· *
Cian has not been experiencing too much pain.
· *
Cian has been in relatively good spirits.
Unfortunately the negatives are currently outweighing those
positives.
·
* Cian is not eating or drinking anything through
his mouth. The only food and drink he is
receiving is through a series of tubes.
·
* Cian is occasionally 'spiking' a temperature,
which indicates he might have an infection.
As such, he is back in isolation and has yet another tube feeding him
antibiotics. They are constantly testing
the full range of bodily fluids to try to pinpoint what is causing him so much
grief.
·
* He does not have the energy to be very active so
physio has been kept to a minimum, and he is sleeping a lot more (hence why I
can write this blog during the day).
·
* The fact that he is having feed and not being
mobile is causing him to be sick, and occasionally requiring a new NG tube.
· *
He has required platelets to raise his blood
levels being low.
So the current situation is that he is stuck in hospital for
another weekend
This has raised the mood from irritating to slightly
worrying, but we have confidence that this can be turned around, and we get
Cian feeling better.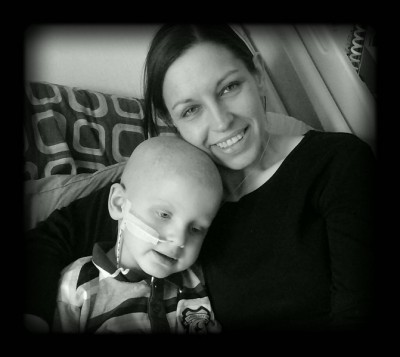 Cian is due more chemotherapy, so we hold our breath as to
whether he will be well enough to receive it.
I'm hoping Cian will wake up to watch the rugby with us!