Thanks to everyone for their messages on here and Facebook
about Cian's home visit this weekend.
It went as well as could be expected. Cian was in a very good mood and obviously
excited to be home, as much as we were excited (but apprehensive) about having
him home.
On Friday night I decided to phone Llanharan Rugby Club to
see if I could blag a parking spot to take Cian and Dylan to watch the team
play in a reorganised fixture against RGC1404 on the Saturday morning.
RGC (or Rygbi Gogledd Cymru) are a team from North Wales who
are challenging for promotion out of the Welsh Championship and into the
Premiership; and given the support that they have received from the Welsh Rugby
Union there is no doubt that the 'Gogs' could one day be converted into a
region, to further grow the game up North.
This approach seems to be working as they attract a good level
of supporters they get at their Parc Eirias ground in Colwyn Bay, as do the
Welsh U20's who also play their games at the ground. Speaking of which, a huge congrats to the U20's
on achieving their historic Grand Slam on Friday night!
As well as being promised a parking space, the club invited
us to meet the players and have a photo with them. I knew both Cian and Dylan would be thrilled
with that opportunity so I gratefully accepted.
The club have been amazing in supporting Cian, and
as well
as the 'fun day' on January 2nd (which was the original date for the
RGC game), they have also organised a charity game for Friday 8th April
where the current squad will face a team consisting of some players of
yesteryear! I am hoping that it will be
a fantastic occasion for the whole community.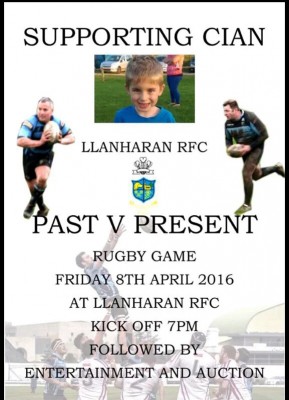 Cian had a good night's sleep on Friday, which tells us that
he is more than comfortable in his new bedroom.
What he is also comfortable with is his chair / toilet that was kindly given
to us by our friend Lynsey. The toilet
options we have been given at the hospital have not been either comfortable or
practical and it has been difficult to encourage Cian to use them; but this
contraption is perfect in size and even looks good in his room as a working
chair!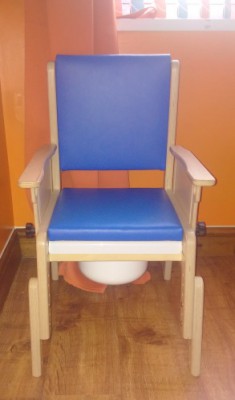 The Llanharan game started at 11am (due to the 6 nations
fixtures in the afternoon), and we cut it a little bit fine in getting to the
ground before kick-off. I need to
appreciate how much longer it takes to get ready when you have to account for
Cian's disabilities. Again, I can only
compare it to having a baby.
We got there just before the teams got on the pitch, so we
were able to escort the Llanharan squad out whilst being respectfully clapped
by the RGC team. We also got a
photograph taken with them.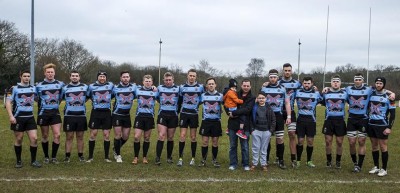 As we got to the touchline, we also had a picture with
former Welsh international Phil Davies who was head coach for the Namibian
national team in the recent world cup and is now assisting RGC.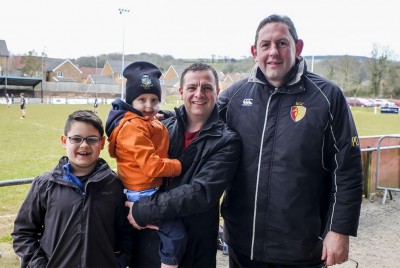 The last time I met Phil was in the aftermath of the World
Cup loss to Western Samoa in the 1991 tournament. My friends and I invaded the pitch when the
final whistle was blown and I wrapped my flag around the shoulders of the despondent
Davies who was down on his haunches. He
tried to brush it off at first… but I managed to get it back on. If you see the pic below (taken from the Irish Times) you will see the
flag. Also, the flag appeared (with my
hand) in the Today newspaper. This was
quite special as the colour newspaper had not long been launched. If anyone has a copy of the video of that
game let me know, as me and my mates feature a few times and we have lost the
VHS copy we had!
Although Dylan and Cian enjoyed the Llanharan match, it was
a little one-sided in terms of scoreline as RGC racked up 80 points against
us. To be fair, in parts Llanharan didn't
play as badly as the score suggests; but we are certainly a club in transition
as we try to build the squad from the ground up using local players.
After the game Cian said that he wanted to stay at the club
to watch the Wales v Italy game on the big screen. Unfortunately, his enthusiasm was not matched
by his stamina as he fell asleep towards the end of the first half; But he did
get to see Rhys Webb start (and also influence) a brilliant game.
We knew the chemo was going to cause Cian to tire, and in
hindsight staying at the club was probably a bit much, but I wanted him to
enjoy himself.
In the afternoon, we watch Hotel Transylvania 2 as a
family. It is never easy for us to
choose a film that all 3 kids want to watch together, but we all managed to
enjoy it.
Cian didn't have a great Saturday night as he was suffering
a little bit of tummy pain. This was a
bit worrying as we were concerned that this might be as a consequence of an
extended period of constipation.
Fortunately, relief came to Cian on Sunday morning as I
tried to get him a little active by playing with wrestlers on his bedroom
floor.
Sunday has been a mixture of playing Xbox, watching TV and
spending time together and a nice bath; before he had to leave before 3pm. This early departure was to get him
comfortable back at the ward and to prepare him for resumption of his chemo
tomorrow!