Apologies that it has taken me a full week to post an update
to the last blog.
Now that we have said goodbye to March, it certainly feels
like Spring has arrived, and I am hoping that the season of growth and new life
will be promising for Cian.
Cian has spent all last week in hospital, but he has got a
little better and a little stronger each day.
As I was on holiday in West Wales with his brother and
sister, we decided to give Cian a treat and organised for mascots to visit the
ward on Easter Monday and spread a little bit of cheer.
Little AJ's who were asked to surprise Cian with mascots on
his birthday by the Ethan Perkins Trust Charity, had agreed to provide the
mascots free of charge so all I had to do is make the arrangements with the
ward and to pay for some treats to be dished out to all the patients who had to
spend their Easter in Noah's Ark.
They sent a Power Ranger, Princess Aurora, Bing and Chase.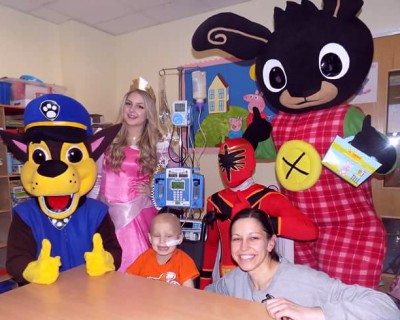 Although we were not there to see Cian's face (or the other
children that benefited from the visit), we were able to catch up with photos
posted on Facebook.
We got back on Thursday, a day early, in the hope that Cian
would be allowed home on the Friday.
Unfortunately, due to a little fluctuations in Cian's blood
levels it was decided to keep Cian in on Friday night with a decision to go
home to be made on Saturday morning.
During Friday Cian got to choose a new patchwork quilt that
were made by volunteers of the Project Linus.
It is an amazing creation, and Cian has certainly taken a shine to
it.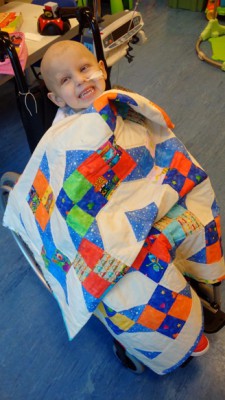 Cian was also the first person on
the ward to get a sneak peek at the impressive patchwork mosaic that the
project have created. This has been
framed and will adorn the corridor just outside the ward in the near future.
So I was on Cian duty Thursday and Friday nights. It sounds a little weird but I actually
enjoyed getting back to what I now regard as normal. I slept better at the hospital than I did at
the caravan; not because the caravan was not comfortable, but because I am now
used to being a carer; and the routine of administering medicines, organising
physio, ensuring Cian is having the right amount of feed at the right time is
very reassuring.
Cian was given permission to leave on Saturday and mum took
him home in the car, while I took Dylan and Bethany to watch Cardiff City
play. Llanharan Primary School were
again allocated free tickets and it is a welcome distraction for them. The only negative is that Cian would have
loved to have gone, but again his positive attitude and understanding shone
through. When he does have an
opportunity to do some of the things he is missing out on it will be amazing!
While at home Cian enjoys doing the things he enjoys best
like playing video games, and with his toys, and arguing with his siblings.
Cian will be transported back to the ward sometime on Monday
morning. It is still the school holidays
so Dylan and Bethany will be attending clubs to keep them occupied. Although there is lots to do on the ward,
there is not enough to keep them adequately entertained, and they wouldn't have
the attention from me or their mum that they deserve. Also, we have now given up the accommodation
we were allocated with LATCH due to it being very busy at the moment, so there
is nowhere for us to spend the night at the hospital.
The clubs also provide them with a routine.
I'm hoping to provide more regular updates this week as we
prepare for the start of chemo round 6 (out of 9).
We also have the Llanharan RFC Charity Match (Friday) and
the Superhero Fun Day (Saturday) to look forward to. I'm hoping Cian will be feeling up to
attending one or both of them, even if it is just for a short while.