This is just a quick update following yesterday's blog.
Cian had a fantastic night sleep and woke in a very
energetic mood. Unfortunately though,
the overnight blood test results showed that Cian's platelet levels had deteriorated
so therefore not only had chemo been postponed for the day, but it was decided
that it would be best to give Cian platelets to provide a boost and then to
reassess him next week.
This does mean that we will have Cian home for the weekend,
and providing he keeps well then there is a chance he can make an appearance at
the events organised… although we will need to make further trips into the
hospital for further tests.
Cian had a very positive day in physio. The morning session involved Cian moving
around a plinth whilst playing board games.
This demonstrated that he has gained even more strength and control in
his legs. This afternoon, Kimberley the
play specialist, made a treasure hunt around the Rainbow Ward. This is because although Cian can use his
walking frame with some limited assistance, he does need some motivation and
distraction.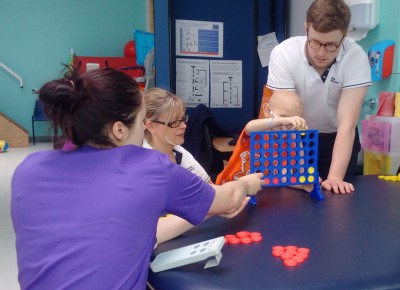 It proved to be a huge success as 'Special Agent Cian Case'
ably assisted by his friend on the ward Eva, followed all the clues hidden at
various locations around the ward, to the treasure at the end (an Easter Egg
and colouring pencils).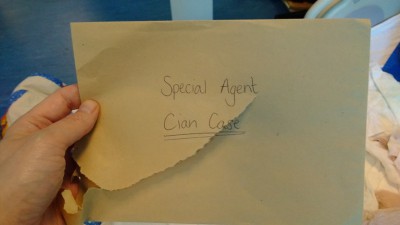 This was definitely the most controlled walking that Cian
had managed thus far, and was a great cause for future optimism.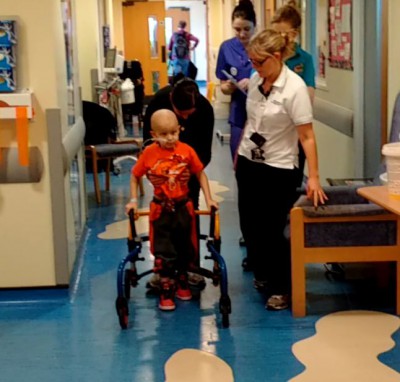 I thought I would also update you on the letter that I sent
my local MP (Huw Irranca-Davies) describing Cian's condition and asking for
support in requesting a Parliamentary Debate for Brain Tumour Research
following a successful e-petition.
I got a reply stating that he had contacted the Leader of
the House supporting the debate.
The debate has now been tabled for 16:30 on 18th April 2016
at the Houses of Parliament, but unfortunately due to Huw resigning from his
seat in Parliament to focus on a campaign to become an Assembly Member at the
Senedd, he is unable to represent Cian at the debate. However I agreed to take him up on his offer
to find another MP to speak.
We have heard from his office that Nick Smith, Member of
Parliament for Blaenau Gwent will represent us.
We are just waiting to hear confirmation from his office.
I am hoping to go to London and attend the debate, but I
will need to ensure Cian is well enough.
Mr Irranca-Davies will be attending the charity rugby match
tomorrow, so I am hoping that it will demonstrate the strength of feeling and
support that has been shown to Cian, and how important these issues are.