When Friday arrived Cian was super excited. He was aware that this weekend had 2 great
events to look forward to. These were
the Charity Rugby match at Llanharan RFC (followed by an auction and
entertainment); and a Super Hero Funday at the Welfare Hall organised by the
staff at the Drop In Centre.
Although it wasn't planned this way, Cian was as well as we
have seen him for quite a few weeks, mainly due to him not having the chemo he
was due this week. This was as a result
of his blood levels not quite reaching the required figures.
As well as a lively physio session, Friday involved Cian
spending most of the time in the playroom playing a variety of games with other
patients and their parents. You get an
idea of how determined these children are to overcome their different cancers
by how competitive they are! Uno is
certainly the ward favourite.
We had been primed all morning for Cian to be discharged so
we could get ready for the rugby, but then came some bad news…. Cian would need
to remain in hospital for a blood transfusion and then stay overnight for a
follow-up blood test on Saturday morning.
I decided to negotiate a compromise that following Cian's
transfusion, we could take Cian out for the rugby and return him for 9pm. Thankfully it was agreed and eventually we
were on our way.
Llanharan Past v Present did not disappoint. It was amazing to see so many people in
attendance to support Cian; and the rugby was a great spectacle. The tackling was fierce; there was plenty of
running rugby with some impressive offloads; the fitness levels were high; and
the sportsmanship was amazing.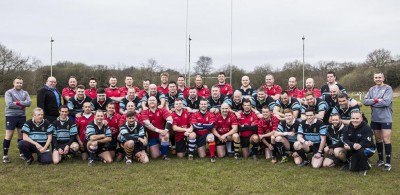 I can't begin to thank all the players that turned out on
the night, and I hope none of them had any lasting damage.
Cian managed to see a few friends that he hadn't seen since
he was last in school in November, which gave him a huge lift. He also got an opportunity to thank everyone
on the PA system, which he thoroughly.
As promised, the outgoing Ogmore MP (and Assembly Member
candidate) Huw Irranca-Davies attended the match accompanied by Chris Elmore,
who is the labour candidate for the vacant seat in parliament. Cian and I got to briefly meet them where we
discussed the arrangements that had been made for Blaenau Gwent MP, Nick Smith
to represent Cian at the Parliamentary Debate on Brain Tumour research that has
been scheduled for April 18th.
We were gutted that at the conclusion of the game, which was
won by the present team after a late surge, we had to leave for the hospital
while everyone else were treated to an auction and entertainment in the
clubhouse. As soon as Cian was put into
his bed he fell straight to sleep.
Special thanks must go to Grant Hall and Wayne Jervis who
organised the majority of the proceedings, which in total raised over
£4,000. That is an absolutely incredible
amount and we are overwhelmingly grateful.
The kids were also treated to Ospreys goody bags.
We are hoping to make the garden more accessible to Cian so
he can enjoy some outdoor time in the summer on completion of his treatment.
Thankfully the blood tests on the Saturday morning were fine
and we were able to make it home for 10.30am.
We got Cian into his Power Rangers costume while Bethany
dressed as Princess Anna (Frozen) for the Super Hero Fun Day. Dylan is a little too old and too cool to be
dressing up now.
The Welfare Hall was buzzing with activity, with a variety
of different stalls and activities to choose from.
Bethany enjoyed having a glitter tattoo, Dylan had a go at
the Sumo Wrestling and Cian had a roll around in the ball pit. I think my favourite part was the chocolate
orange cake that was on sale.
The event raised over £400!
What was also great is that Cian got to see all the people that would
usually look after him during holiday club in the drop-in centre and other
friends.
Later in the afternoon we watched the Grand National. Last year the family saw 3 of our 5 horses in
the first 4… this year we were not so fortunate; but given that our method of
choosing horses is not very scientific then we can't be too surprised. Hopefully you guys had a bit more luck!
Sunday was mainly a chillout day based on the exertions of
the previous 2 days, and most of the time was spent playing games. Although we were not due to go back into hospital
until the Monday morning disaster struck early in the afternoon on Sunday as
Cian vomited and brought up his NG tube.
We all made our way into the hospital, as Dylan and Bethany had an inset
day on Monday.
Cian has been vomiting regularly at the moment. It's difficult to understand why, as he
should not be feeling the after effects of chemo. It's probably a mixture of being on a
different feed and not being as active as he could be.
Monday has been another good day. Cian tolerated an hour of being on his feet
in physiotherapy playing games with Dylan and Bethany. There is no doubt that the strength is
continuing to build in his legs. We
expect progress to dip when he starts chemo again… but that is something we
have been told at every stage, with very little in terms of any
deterioration. Cian's blood results have
shown that he can finally commence round 6 (of 9) chemo tomorrow
afternoon. It consists of 3 different drugs
given over 2 days. Cian has had a bit of
fun in the playroom on the video games and Uno.
Monday night we have watched a bit of tele consisting of Soapbox
Racing, Tom and Jerry and Wrestling. He
seems nice and settled and I'm hoping for everything to go smoothly tomorrow.
Cian slept extremely well on Monday night considering there
was quite a lot of disruption around the ward.
Cian is so used to having his overnight 'obs' and other distractions he
can sleep through these without fully waking or considering. It is a little different for me or mum, as
although Cian is in no imminent danger, there is still a heightened sense of
awareness which results in us jumping out of bed at any little noise.
Tuesday started quite relaxed as we prepared for chemo in
the afternoon. As chemotherapy means
that Cian is attached to a variety of different pumps, it was important to have
a good chemo session in the morning. So
we made our way down to the dolphin zone with a number of new games that had
been donated to the ward. During the
session it was noticeable to the physios that Cian tolerance in standing; his
posture; his movement; and his strength had improved. Without Cian even noticing, the physio
offering support was giving more and more control over to him.
This resulted in the physios deciding to try to get Cian to
WALK with minimal support. So with a physio
on each arm, Cian took his first independent steps since November. As you can imagine it was incredibly
emotional to see. Once we got Cian back
to the ward, mum and I were given the opportunity to walk with Cian. As soon as he held our hands, he started
singing "We're Off to See the Wizard" from the Wizard of Oz. It's a song that we always walked to before
he was ill when he held both our hands.
And it did feel as if we had been to see the Wizard of Oz and our wish had been granted! Although just with every other major
milestone we have reached, Cian almost dismissed it. When asked by the nurses "what did you do in
physio today?", his response was "don't know" or "play games".
Before I left in the afternoon, Cian was hooked up to his
chemo. It's a week later than scheduled,
but what was important is that he has been well enough during that time to
enjoy the break.
Tuesday evening was spent with me taking Dylan and Bethany
to rugby training. It took place on the
main field which was a treat for all involved.
I counted over 80 children, so it was like a little festival of rugby
and was amazing to watch from the stands.

I also got a chance to meet Wayne (who organised the charity
game) properly. I asked how the auction
and entertainment went, and the feedback was amazing, with some people staying "quite
late". I asked him for a list of people
who donated auction prizes and those who contributed; but he was adamant that
there were so many generous people who have been involved that it would be
wrong to single out anyone in particular.
I totally agree.
Cian had a comfortable night with mum on Tuesday.
Although Cian has still been hooked up to his various pumps on Wednesday,
we have managed more walking as the physios hid Cian's soft toys around the
ward and he had to go and hunt for them.
So with his pump stand in tow, he found his cuddly friends. It was amazing to see the amount of energy he
has.
We then played Snakes and Ladders before the walk back to
the room.
We have had our usual Wednesday night visit from uncle G and
playing board games with Caroline (Latch support worker) and we are now
settling down and watching the FA Cup replay between West Ham and Manchester
Uniteds.
He has also completed his chemo for this week, and seems to have handled all the drugs very well.