I'm going to keep this blog short as I am in the process of travelling to London on a coach.
This journey is not one of leisure, but of real purpose.
Following my letter to Huw Irranca-Davies (now former MP of Ogmore Constituency) we were able to secure a Parliamentary Debate on Brain Tumour research.
Although Huw was unable to represent Cian at the debate, he did manage to secure the services of Nick Smith, the MP of Blaenau Gwent to speak on his behalf.
This is an extremely important event as the report written following the successful e-petition clearly demonstrated that Brain Tumour research was not getting a fair proportion of funding despite it being one of the biggest killers of people under 40; and those fortunate to survive are faced with a life full of significant challenges due to the harshness of existing treatments.
The debate will be streamed live from the Parliament.tv website from 16.30 this afternoon.
Depending on reporting restrictions I might be able to post social media updates.
More importantly Cian has had a very positive weekend which saw him home from Friday to the Monday.
Cian's weekend was given a bigger boost when a package arrived from Manchester containing a signed top and get well card from Charlie Oliver who is a rising star in the Man City Academy team, who Cian and I have been following on their journey to the upcoming Youth Cup Final.
Cian made a Good Luck card for the team!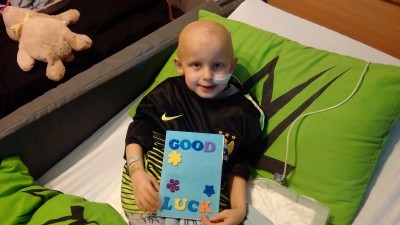 Even a trip to the shops which would usually bring nothing but groans from the kids was a treat for Cian who hadn't been to Tesco for 5 months! There he got an ID photo taken for his disability blue badge application.. And the photo was taken by one of the mums up the school, which made the experience more pleasant.
Cian is now back in hospital for his physiotherapy and to monitor him before another dose of the chemotherapy drug Vincristine tomorrow.