Wow, it's been over a week since my last blog!
It has been incredibly busy, emotionally draining but wonderfully positive. I'm having to look back over a weeks worth of texts between me and mummy Case to make sure I remember everything.
It has all been building up for Cian's MRI scan that took place yesterday. It is the first detailed scan of his brain and scan since he was admitted at the end of November.
But before I let you know the results of those, I will allow you to catch up with the highlights of the previous 7 or 8 days.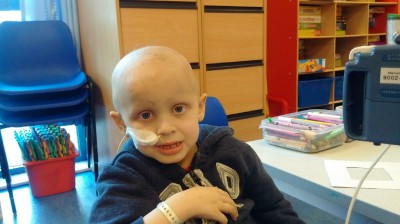 Towards the end of last week Cian was a bit up and down. He was being sick (which kept bringing up his NG tube), and last thing at night and first things in the morning he has been complaining about tummy pains and headaches.
Nausea, tummy pains and headaches are symptoms of loads of different ailments, and also the side effects of the majority of drugs; so most people will say that it is to be expected, and they would be right. But they are also some of the symptoms Cian was experiencing when he first became ill (albeit not as strong as they were back then), so paranoia was starting to kick in, which was only heightened by the imminent MRI.
Thankfully we still had a healthy supply of Kool'n'Soothes thanks to your generosity, which have come in handy.
Once Cian has been awake for an hour, the nastiness he feels soon dissipates and he has been all systems go.
In physio, Cian has continued to go from strength to strength as he now spends more time on his feet (with support) than he relies on his wheelchair. This is a little ironic, as we have had ramps fitted in the house over the last week.. but Cian still has a long way to go in terms of independent walking, so the ramps are still very much a necessity.
I've got to say, the guy who fitted the ramps was extremely good and they don't really impact the aesthetics of the house very much at all.

Cian has still got involved with some of his 'school lessons' by the hospital tutors. I've got to say that I am proud of how keen he is to take part, as lots of the children are not pleased to have lessons… and given their predicament I can't honestly blame them! They had a bit of a treat last week, as they were given the chance to do some 'food technology' by creating iced biscuits and fruit kebabs.
Not only was it enjoyable to do for Cian, but he was also eating some of his creations; which given his lack of appetite over recent months was very positive.
The big question at the end of last week was, 'is Cian well enough to go home for the weekend?'
Cian started his latest round of chemo on the Wednesday of the previous week, which was topped up with Vincristine on the following Tuesday (last week). This meant that Cian's blood counts were on the drop and he might need blood products. He was given platelets on the Thursday, to give those a boost and he was on GCSF daily (to help stimulate bone marrow to create more white blood cells).
So on the Friday a compromise had to take place whereby we could take Cian home on the proviso that we bring him back in on the Sunday morning for a further blood test, with the possibility of him also having a blood transfusion. Although the journey into hospital on a Sunday morning with Dylan and Bethany in tow is not one to look forward to, we agreed.
When we got home, Cian and I had a bit of a session playing Lego Dimensions on the Xbox. It is something that Cian definitely looks forward to! And we waited for Dylan and Bethany to return home from school. Cian doesn't get to see them through the week (and vice versa), but it is like they are never apart.
On Saturday, the first job was to give Cian his GCSF. As a reminder, this is the drug that if he has it in hospital it can be administered through his Hickman Line (wiggly), but if needed at home it is injected. This is by far the one thing that Cian does not look forward to.. almost to the point that it puts him off going home if he knows he will need it. Actually when he has the injection, the experience is not as bad as the anticipation that starts when the cream is placed on his leg a half hour before.
Later I took Dylan to watch Cardiff City play Bolton thanks again to tickets courtesy of Cardiff City Foundation and Llanharan Primary School. We have been fortunate to benefit from the school being allocated so many free tickets towards the end of this season, and it has given Dylan something to look forward to. It was made even better this time as it was the Club's Foundation Day, which included access to a fun fair and some sporting activities to take part in.. but that also came with the reminder that all 5 of us went to the corresponding day the previous year, which Cian absolutely loved!
When we got home from the football it was clear to see that Cian was not looking or feeling as well as he had been, so we settled him down a little earlier than usual in preparation for the trip to the hospital the following morning.

Due to this change in his wellbeing, we were expecting that his blood test the next day would show that he would need a transfusion, so we got everything ready for a potential stay. This was reinforced when Cian woke on the Sunday suffering his usual tummy pains, nausea and headaches…. But as we got ready and boarded the car, he suddenly seemed a lot better. This could have also been down to him not needing an injection as we were already going to be at the hospital.
Once his blood was taken to be tested we all played in the playroom waiting for an hour for the results. The colour had certainly come back to Cian's cheeks, so we were now thinking he may not have to stay in after all. And sure enough, it was shown he didn't need a transfusion. The weather was lovely and it was not yet midday, so we decided to take ourselves, together with the packed lunches that Mummy Case had lovingly prepared to the Cardiff International White Water Centre 'down the Bay'.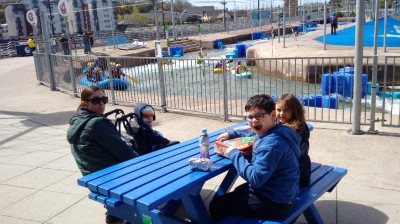 Although we couldn't spend too long there as Cian would need his afternoon medication, the hour or so spent there was excellent. Even though we couldn't take part in any of the activities, it really is a fantastic place just to go and spectate, which we have done as a family on quite a few occasions. Most people we talk to are not aware you can do that, but there are good facilities on site and benches around the course to see the more adventurous come down the rapids in their canoes and rafts. You can also go indoors and watch the indoor surfing (although nobody was doing that this time).
We got back home in the afternoon, played a few games, bathed the kids.. and prepared… again for what was going to be a weeks stay at the hospital.. with chemo 7 (out of 9) starting at some point, and the MRI scan!
After we dropped Dylan and Bethany at school, we packed the car and drove to the hospital. The big question was 'when is Cian going to start his chemo?' This week marks the start of Cian's last cycle of chemo i.e. this will be the last time he will be given the drug Doxorubicin.
The decision was made that although his blood counts were improving, they were not good enough to start his chemo on the Monday. This was a tad frustrating because although on a normal week the potential was there to start it the next day, this week he would have to wait until Friday. The reasoning behind this is because the 2 doses of Doxorubicin has to be given over a 48 hour period, and starting this on the Tuesday would take us too close to the MRI scan; and as the chemo and the General Anaesthetic (needed for the MRI) are both potential stressors of the heart, having both close together presented an unnecessary risk increase.
However, we were able to make the most of our physio sessions. We had 2 on Monday including a walk around the Noah's Ark garden.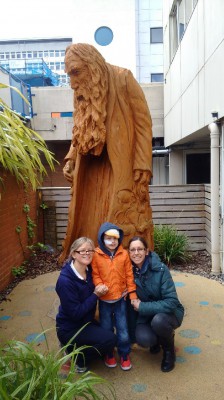 Anne White, the play therapist from the charity Kids With Cancer, came to the house to play with Dylan and Bethany on Monday evening which again they thoroughly appreciated.
I was a little delayed arriving at the hospital on Tuesday as the 'ramp guy' arrived at the house to finish the ramps that he started on the previous week. I stayed on Tuesday night, which is not my usual night, but as we had the scan, mum and I negotiated a change in the duty rota. Uncle G was also able to change his usual visit day to accommodate the change.
On Wednesday the first task that mum and I had to do was to give blood samples. Together with a sample from Cian, they would be sent forward as part of the FACT study (Factors Associated with Childhood Tumours). It is crucial that as a family we play a part in trying to establish the cause of these awful tumours so we might benefit, but also that others can also. Although never a fun experience, giving the sample was painless enough, especially considering what Cian has had to endure, there would be no complaints whatsoever!
To brighten our mood we weren't treated to our usual ward entertainment of Jasper, but to one of his alter-egos of Dr. Stavros Plopipantolos. As well as a unique style of medical practice, the Greek Doc also had a few magic tricks and balloon modelling skills to impress the patients (and the rest of us).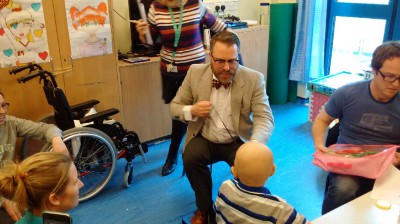 Thursday was the BIG DAY!! As you can imagine we had worked ourselves up quite a bit to this point. Although by looking at Cian and seeing how well his mobility has started to return, you could surmise that he was responding to the treatment, there was no way of knowing what was happening inside without an MRI scan, especially given the worrying recent symptoms Cian was experiencing.
It would have been nice to have had one sooner, but we were told that the radiotherapy would have irritated the brain and also caused some swelling on the brain and spine, which would have affected any interpretation.
First of all, Cian had to be put to sleep as the scan was likely to take between an hour to an hour-and-a-half. He hadn't need general anaesthetic since his radiotherapy finished in mid-February, but it was reassuring that the anaesthetist team consisted of Colin (by his own request) and Dr. Chris, both of whom Cian knew very well from his time back and forth to Velindre.
Cian was amazing at being given the 'sleepy medicine', so mum and I used the next hour to get some breakfast and contemplate the results. We were told that they would try to get the results to us as soon as possible, but there was a chance that we may have to wait until after the Bank Holiday weekend.
Cian woke up in the recovery room in quite a grumpy mood, which is par for the course, but he was feeling much better by the time we got back to the ward.
Within a couple of hours, we were given the news that we had dreamed of…. There is no sign of the disease on the brain or spine (around or above the tumour site)! There are some anomalies below the tumour site, but nothing that is overly concerning the consultants at this point.
As you can imagine, such news is such a relief and release. Cian continues to defy expectations and everyone involved in his care are pleasantly surprised at how well Cian has responded.
However, we cannot rest on our laurels as we still need to finish the course of chemotherapy as prescribed in his protocol.
Thursday afternoon was a special treat, as we had a film day planned. The children designed and made their own pizzas and together with crisps and popcorn donated by some of the staff we sat and watched a couple of films.
This was something that I proposed a couple of weeks ago, so I agreed to bring in my projector and some films. Not only did the children enjoy the movies, but they also managed to eat quite a lot of the treats on offer, which is more and above what their appetite would usually allow them.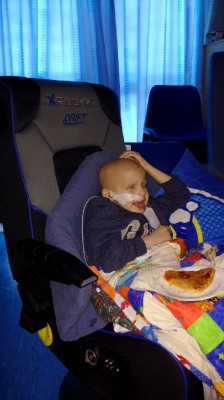 Today (Friday) marks the start of the chemo. It does mean that the start of our Bank Holiday weekend would be spent in the hospital, but providing the chemo was put up as early as possible as we requested, it would ensure that we got out on Sunday at a reasonable time. Frustratingly due to Cian needing a heart scan which had not previously considered, the drugs were not put up until mid-afternoon.
Cian is now fast asleep, much earlier than usual, which has enable me to finally finish this blog. Hope you all have a fantastic Bank Holiday weekend!!