Although Cian has been in isolation for most of this week due to the C
Difficile infection last week, he has had a pretty good time where he
had room visits from Rubicon Dance who
had a bit of a boogie with him; a very dramatic story reading from
Readathon; and a cool owl balloon hat courtesy of Jasper.
Yesterday it was confirmed that there was no more of the C Diff in
Cian's system and he was allowed out of isolation just in time to hear a
reading from Wendy Hobbs, the author of The Spell of Pencliff, which is
the first of a series of books relating to Claudia Quash.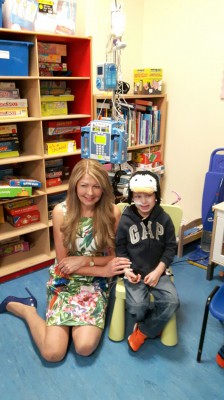 Unfortunately shortly after that a rash was spotted on Cian's back which
has now been confirmed as shingles. This has meant that Cian was put
straight back into isolation and is no longer able to go home this
weekend.
On the plus side, the shingles hasn't prevented Cian receiving his chemo.
That has now finished and he only has 1 more round to go!! That is likely to take place in 2 or 3 weeks time.
I will no longer be attending the White Collar Boxing in Cowbridge
tomorrow as getting Cian better is the priority whilst making sure Dylan
and Bethany's weekend isn't impacted too much by the new setback. I'd
like to wish all the fighters the very best of luck and thank the
organisers ASP so much for organising what promises to be an amazing
event and supporting both Cian and Ellie!!
Whatever you are all doing this weekend, we hope it's a good one!