To say that as a family we are incredibly frustrated, is a huge understatement.
We are just one more treatment away from Cian finishing his prescribed protocol… but we have reached a point where we are experiencing one step forward and two steps back.
We were hoping to get Cian home for Bank Holiday weekend, and although we had a stuttering start due to him feeling the after effects of chemo on the Friday, we got the all clear to go home on Saturday after a blood transfusion.
However the doctors warned us that due to Cian being neutropenic his trip home may be shortlived.
The weather was lovely so we were determined to enjoy it as much as we could. But, a part of Cian's treatment means that we have to avoid direct sunlight and harmful UV rays as much as possible.
To combat this we have bought a gazebo with some of the money donated to go in the garden so Cian (and the other kids) can play outside safely.
Everything was going amazingly well. Sunday, Cian was in good spirits and tolerating the medicines, water and feed going down his NG Tube. This was vitally important, as most of Cian's recent issues have been related to hydration.
Also Cian was not getting as upset receiving his daily GCSF injections as he once did.
Unfortunately, after a sudden bout of diarrhoea on Monday morning, Cian 'spiked' a temperature and had to be taken straight back into hospital… a day earlier than anticipated.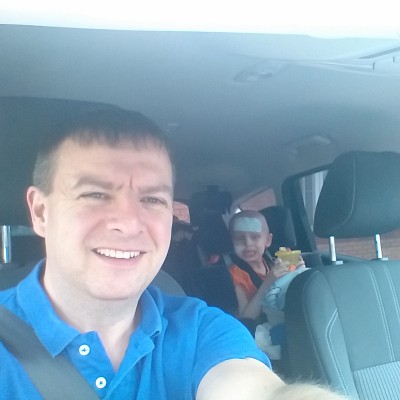 When Cian and I arrived at the hospital it was obvious that he needed medical assistance. He was given antibiotics and fluids which within a couple of hours he was much more alert.
We had a reasonably good night at the hospital, although Cian's erratic bowel movements had an episode at half 4 in the morning. Cian managed to get back to sleep a lot quicker than I was able to.
I was glad he was able to doze off, as Tuesday was going to be busy.
We first had an introductory visit from Mags, who is going to be Cian's community physiotheapist.
It is a big leap for Cian who has got to learn to know and trust Ann and the team of physios at Noah's Ark.
But Mags was lovely and one of her first tasks was to read these blogs to understand what Cian has gone through and the progress he has made in the 6 months since he was first admitted.
What also concerned us was that the ward was extremely busy, and it was intimated that Cian could be moved to another part of the hospital to make room for those children needing chemotherapy.
As you can imagine, that situation would not be ideal, as Cian has an infection and in isolation; he is neutropenic; he has established trust with the nurses and staff on rainbow ward; he is comfortable in the surroundings. A change in ward where there are children with conditions that could cause significant problems to Cian's treatment and recovery poses a risk that as parents we have no option than to challenge.
Ultimately the decision is out of our hands, but we hope common sense will prevail. We do not envy the people having to make these difficult decisions, but we need to fight the corner for Cian who is too young and weak to do so himself.
A review will take place tomorrow to see whether a move is necessary.
Yet another concern is Cian's weight. He is now down to just over 14kg. This demonstrates that Cian has lost between fifth and a quarter of his body weight since he was first admitted.
This has passed a threshold which triggers another intervention called Total Parenteral Nutrition (TPN). This is where 'food' is administered and absorbed directly into the bloodstream rather than the stomach i.e. 'food' will be given via his wiggly (Hickman Line).
This was something we hoped to avoid, especially as we have gotten close to the end of treatment; but we understand that his weight is now becoming critical. We have also had reassurances from other parents on the ward that their children have thrived using this technique.
The frustrating part is that we are not able to feed Cian using this method, so the likelihood of him getting home as often as we would all like has diminished further.
Even with all this negativity in Cian's final few weeks of treatment, we are reminded of children and their families on the ward who are currently facing even tougher challenges, and our thoughts, prayers and solidarity are with them also x