In the last few weeks I have reduced the frequency of my blogs to just once or twice a week. This is because not much has been happening, but all of a sudden things are looking a little more busy.
I think it became quite obvious on Monday that Cian's recovery was being hampered by him being confined to his room. Once he was let out to go for his tests, he became more energised.
So although Cian hadn't received the all-clear to roam the ward just yet, it was deemed acceptable that Tuesday's physiotherapy session could be held outisde within the hospital grounds. It's not the first time we have used the outdoors, but it was a very welcome alternative to his room.
Before going outside Cian had a warm-up dance session with mummy Case and Kimberley the Play Specialist.
So accompanying me and Cian outside were mum, Kimberley and Ann the Physiotherapist.
The session consisted of walking around the grounds; saying hello to the ducks; looking at the exercise equipment; and taking part in a conga.
As a treat for his hard work, I then treated Cian to a magazine from the shop.
The idea was to do something similar on Wednesday, but the weather unfortunately prevented us venturing out; but at least Cian still had plenty of energy to get involved in indoor physio, which in recent weeks he has been more reluctant to do.
We have also seen him being more cooperative and enthusiastic with his tutoring, and he has been reading quite a lot this week.
His day was also brightened by the visit of Jasper, courtesy of Dreams & Wishes. Jasper has agreed to be host AND entertainer at our Charity Ball in October. It will be a fantastic occasion and I honestly can't wait for the opportunity to thank all the charities and healthcare specialists for all they have done for us.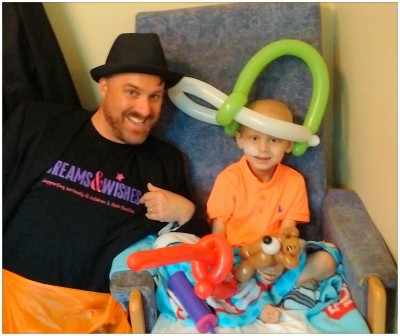 I am also looking forward to this Friday, where Cian's Kicking Cancer is being supported by An Evening with Ricky 'The Hitman' Hatton in Merthyr Tydfil. I have met Ricky on a few occassions when I was living and working in Manchester. He is not only a boxing legend, but also a top bloke. I have to thank Lyn Williams of Kreelicious and his wife Rachel for thinking of us when they organised this event.
So this evening we have had our visit from Uncle G before settling down. At around half 7 the nurses performed their hand-over. The nurses on Rainbow work approximately 3 twelve hour shifts per week.
One of our nurses tonight is Lucy, who is performing her last shift as a student.
In the 6 months we have been at the hospital (on Rainbow and Owl wards) we have been looked after by a number of students at various stages of their courses.
I can honestly say that the quality, empathy, professionalism, and enthusiasm shown by them all is amazing. It really takes a special person to become a nurse, and to look after sick and seriously ill children is even more challenging.
Cian presented Lucy with a card and box of chocs as we have seen more of her than any other students and he has definitely taken a shine to her.
Fingers crossed she will make a return to Rainbow at some point once her career kicks-off for real in the Summer!
Just to update you on health things…. Cian's tummy tests at the start of the week have come back normal. Tomorrow will be a big day as we will find out once and for all what has been decided regarding Cian's final chemo; and we will have a visit from infection control to see whether Cian is finally ok to come out of isolation… hopefully just in time to watch the Wales v England game on the new projector and big screen which has been donated to the ward by Dreams & Wishes!