It's been another very good few days since my previous blog, and we couldn't be happier with how things are progressing.
We have tried to think of different ways to keep everyone amused without having to travel too far or spend too much money. It is important that none of us get into the habit of staying in, as we need to keep Cian active, but not to the point of exhaustion.
We all took a trip on Sunday to the National Museum of Wales, We have been a couple of times before, and it is an amazing building with some pretty impressive exhibits; and the fact that entry to the vast majority of it is free makes it even better.
On Monday whilst Dylan and bethany were in school, we took Cian to the Designer Outlet Cemtre, McArthurGlen, Bridgend.
It's not too far away, and the children's play area is absolutely perfect for Cian. We had got to a stage where all 3 of our kids had outgrown the park, and there was little there to challenge them; but now it is ideal. It is covered from the elements; the flooring is firm but rubbery; the majority of the apperatus is accessible to Cian; and there are toilets on hand.
It has been the one place that we feel more confident in letting Cian 'off the leash'. Instead of just taking a few independent steps, he has the confidence to go for short walks. He still looks a little clumsy, but as strength and control improves hopefully he will start to walk more naturally.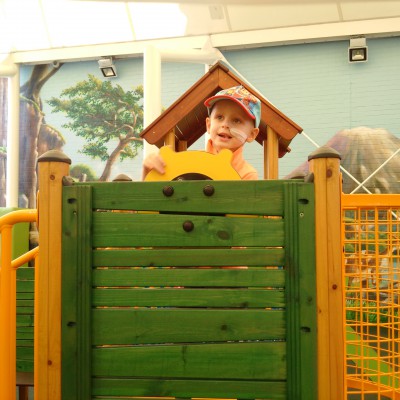 But given we were warned that the likelihood was he would never regain independent mobility (without the aid of a wheelchair), this is absolutely amazing.
Today was a trip back to Noah's Ark for a clinic appointment, and the first time for us to see Dr. Heidi (Traunecker), who is Cian's primary oncology consultant since
It feels a million miles away from our initial meetings with Heidi when we were told in no uncertain terms that the prognosis for Cian was not very favourable; that the treatment was intensive and aggressive; and that the side effects would be harsh.
I think I referred to those conversations in my very early blogs as a kind of hope-ectomy, as we were fed the harsh reality of Cian's situation.
That is not a criticism of her approach, as we have come across different consultants with varying communication techniques. Almost like "Good Cops and Bad Cops". I usually like my bad news sugar coated, whereas mummy Case is much more matter of fact and likes to hear it straight.
To see a genuine beam from the consultant as she witnessed how Cian has progressed since he has been discharged was fantastic.
We had a really lengthy conversation with her regarding the removal of Cian's wigglys (Hickman Line), and a reduction on the amount of medication he is receiving; and things are definitely moving in the right direction.
We were also shown for the first time the scan images of the spinal tumour and the disease on the brain before they were treated; and the more recent scans which demonstrate the cancer has gone. I personally found these fascinating. Looking at those lumps, it was no wonder how they were causing so much pain and grief in those early dark days.
All this positivity was lined with a lot of caution, as we know that this type of cancer does not give up easily; so we have been pencilled in for more scans and further tests after the Summer holidays.
Once we were discharged from Noah's Ark, we decided to take a short detour to the BBC Wales Studios at Llandaff.
Mummy Case and Cian are huge fans of Olly Murs; and we were aware that around midday Olly would be attending the studios to conduct an interview with Eleri Sion regarding his new single. As we would be passing the studios at quarter to twelve on the way home from the hospital, we knew it was too good an opportunity to miss. So we parked up and wheeled Cian to the steps leading up to the building where there was already a throng of excited young girls.
We never told Cian beforehand that we would be trying to see Olly, just in case his hospital appointment overran and we never got there; and when we finally arrived we still didn't tell him what we were doing there… and right up to the point where Olly walked off his tour bus Cian thought he was there to see someone from CBeebies!
But he was not diasappointed and was thrilled to see his idol!
At this point Olly could not hang around and talk to his supporters as he was already running behind schedule and had an interview to conduct, so apart from a wave he went straight into the building.
So our thoughts at this point was whether to go home or wait until he came back out.
Our main concern was that it was just after midday on the hottest day of the year with very little shade or relief from the heat, so we were favouring the idea of getting Cian home.
But to be fair to BBC Wales and a member of Olly's entourage they organised it so Cian was under the cover of the entrance of the building together with another girl in a wheelchair. We were told that Olly would see |them first before moving his attention to the rest of his fans.
We didn't have to wait too long, and although we were told that Olly would probably only pose for a quick photo due to time pressures, he spent a minute talking to Cian and even wore his favourite orange sunglasses.
It was a great experience for Cian and mummy Case, and although I always tease the Olly fans in our household, he did come across as an extremely pleasant and genuine geezer.
By the time we got home, it wasn't long before we were picking Dylan and Bethany up from school on their last day. It was the first time Cian had been up there during school time since his visit a few months ago, and he loved seeing all his friends and teachers. It gave him a real enthusiasm for wanting to go back after the Summer Holidays, but not before a few weeks of fun!