When we got Cian home we knew that one of our priorities would be to build upon the physiotherapy Cian was having at the hospital.
Although the physios and play specialists worked wonders with the resources they have, the last few weeks were restrictive due to Cian being in isolation. Now he's home we are not restricted on times, activities or locations.
The only thing that can hold us back is the weather, but one thing that hasn't held us back is Cian's enthusiasm.
Gav the physio at Royal Glamorgan organised a mini olympics for Cian to take part in; Cian has been to a couple of parks and has been able to use (with support) some of the smaller aparatus; and we have set up a number of video games that involves Cian interacting through movement or dance.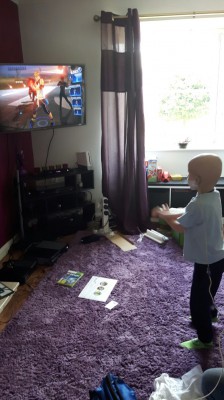 The 2 sports that we always anticipated would be good for Cian's recovery are swimming and cycling.
This week we had a visit from a guy called Chris who was sent as a representative for Cyclists Fighting Cancer, who are a charity who specialise in providing bikes to children who are fighting cancer.
Cycling has many physical and social benefits, and there is no doubt that Cian's recovery would be greatly aided with a trike.
Chris was able to witness Cian's current mobility and allow him to trial a couple of demonstration trikes to see what bespoke features Cian would need and ensure that the bike will be useful to Cian in the short and medium term. There was so much to think about, but just about everything had been considered.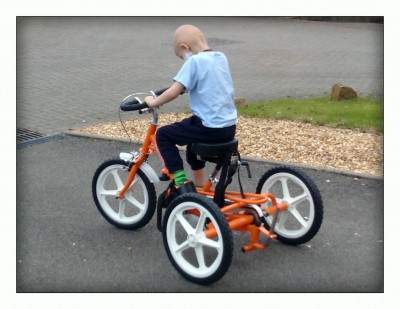 It was so important to us to make sure that we had the right advice when getting a trike and we can be confident that Cian will be safe and get stronger.
So fingers crossed Cian's application for a trike will be approved and he will be riding it within weeks. The rest of us then need bikes so we can go for rides as a family; and Bethan at Ride Bikes Wales has been a great help and I am sure we will be active very soon.
Also this week Cian had an opportunity to visit the guys at First Choice Fitness and get presented with a cheque for the money that was raised at the recent White Collar Boxing event.
He really enjoyed watching the boxers training and sparring.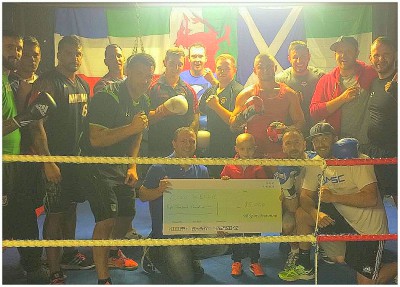 We can't start any swimming or hydrotherapy until Cian's Wiggly (Hickman) Lines are removed, and fingers crossed the consultants will make a decision on that in the near future.
Our latest visit to the out-patient clinic at Noah's Ark was again very positive, and the consultants are still happy with Cian's progress.
Fingers crossed Cian's End of Treatment Bell ringing will happen at some point next week and should signal the start of a Summer of further recovery.