Hi guys,
I thought I would give you a quick update on what has hapened since Cian came home. I think some people were of the opinion that I would stop the updates afer Cian was discharged… but that won't be the case. We are so thankful of the support that we have received, that I will continue to post blogs. Although his treatment has finished, there are a lot of post-treatment things to consider which I hope may be interesting and possibly useful to others.
As you can imagine, it is a bit surreal to finally have him home and the whole family back together under one roof. The whole house dynamic has changed completely.
It will never be a case of getting back to how it was before Cian fell ill, but now working out what the new normal will be.
As mentioned in previous blogs, cian's bedroom has been moved downstairs and the converted garage has been decorated and kitted out to meet all of Cian's current needs. When we were first told that Cian's mobillity would be severely affected by his diagnosis and treatment we feared that in excess on 75% of his time would be spent in that room, but thankfully that is not the case and daytime can be spent in other areas of the home and beyond.
We anticipated that Cian would be fully reliant on a wheelchair or being carried to get around the house; but as he has achieved some supported walking, the wheelchair has been resigned for when he gets out and about.
We managed to get Cian, Dylan and Bethany to Techniquest last weekend. It is important that they spend quality time together, and almost reaquainting themselves. It was also a way to learn how to organise venturing out and ensuring Cian has all his essentials and equipment.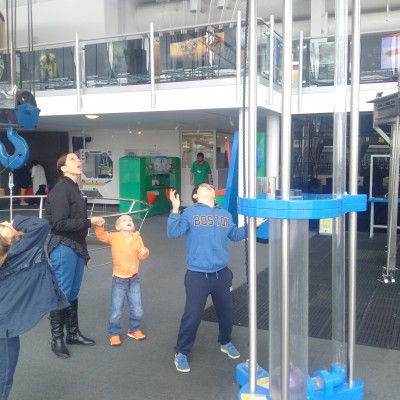 Last Tuesday he had his first out-patient appointment back at Noah's Ark which incorporated a physiotherapy session and a meeting with the consultants to see how things were progressing.
As far as physio is concerned Cian has now been discharged from Noah's Ark due to the amazing progress he has made and has been trusted to the physio guys at The Royal Glamorgan Hospital. It is much closer to where we live so that will make things a little easier.
Dr Maas, one of the oncology consultants reviewed Cian, and apart from a slight loss of weight (which was to be expected), he was extremely pleased with how things have gone and how Cian was acclimatising himself back to home life.
On Thursday I believe that a photo of Cian and me taken for Noah's Ark Fathers Day campaign was used in a presentation at Glamorgan Cricket Club; so if anyone attended saw it please let me know!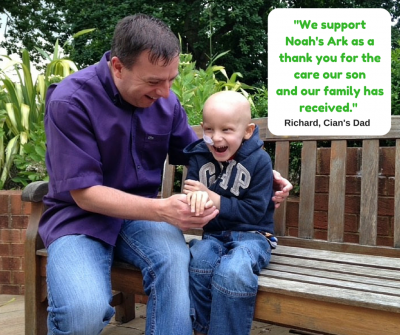 Cian has had 2 physiotherapy sessions at Royal Glam and has picked up where he left off. His new physios, Gav and Mags, are great and Cian obviously likes and trusts them. A change in personnel and environment has even resulted in Cian picking up a gear.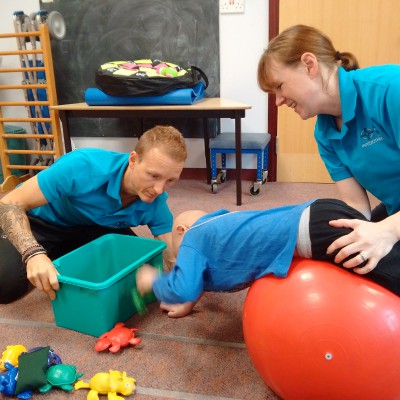 Yesterday evening I took Cian and Dylan to the Football Association of Wales Homecoming Celebrations at the Cardiff City Stadium. Again it was an opportunity to understand how I go about booking attendance at large events and knowing what facilities are available when we got there.
Unfortunately due to the strict 2 ticket per person rule, Dylan had to go with my mate Carl, while Cian and I made our way to the diasabled section of the Grandstand Level 3. Pearl, the Diasbility Liaison Steward for that area, and the rest of the team were great. I think it was obvious that I was a bit of a novice at this sort of thing, plus she took a shine to Cian so we were very well looked after.
It was a great evening, and a fitting event to also mark Cian's homecoming. The Euro2016 tournament was a welcome distraction in the last few weeks of Cian's hospital stay. It also takes us back to when Cian was visted by Bale over Christmas and we wished him well for the tournament; which at the time seemed to be an age away!
On the topic of Gareth Bale, we are extremely grateful to the thoughful and generous person who presented Cian with a signed Gareth Bale ball just before he was discharged. It was an amazing gift and again will provide him a pleasant reminder of his journey.#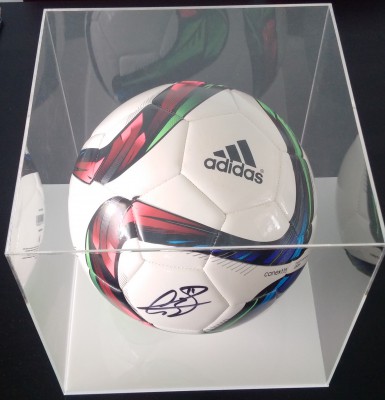 A very noticeable improvement over the last week is the growth of Cian's eyelashes. He always had very prominent lashes and was always something that was commented on when he met someone new. It's amazing to see them return, but we are still to see any growth in any other areas.
We were always warned that there was a chance that his hair may not return following chemotherapy, and if it did it may be a lot thinner than what it was previously. Normal hair growth was further diminished with the introduction to radiotherapy to the head. But like everything else he has had thrown at him, we hope that he will see his hair grow again soon; and if not he has already demonstrated that it won't bother him too much!