Last Friday was a new dawn for us, as we had been told Thursday the news that Cian had finished his treatment and we were able to digest that and come to terms with it.
The final phase would be to ensure Cian was free from infection; he put on weight; his tummy could tolerate and process food; and any pain & sickness was under control.
Once all these are achieved, then we can look forward to a more permanent discharge.
Sunday was great because as well as seeing Dylan, Bethan and Cian on Fathers Day morning and opening my gifts; we were also visited by my members of my family including my mum and dad.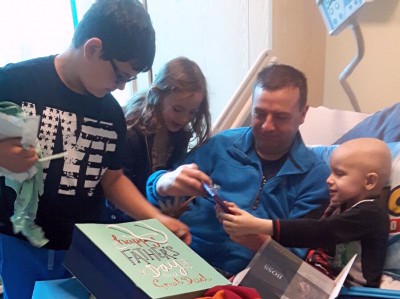 Due to ill health to my mum and balancing care between Dylan, Bethany and Cian; we haven't seen my parents for a few months.
We have seen huge positives in Cian as his appetite is slowly returning;, he is feeling well in himself; he is working hard at physiotherapy and tutoring; and he is experiencing less pain.
Although we are still isolated, we have still been venturing outside when the weather allows; and we have even managed to get him to walk a few steps. He can definitely achieve them, but he does get a little excited and silly which does mean we have to remain a little cautious.
Cian has started to eat snacks and bites of meals. Not in any great amount, but the important thing is that he is starting to digest solids; and this in turn in translating into (apologies for the next bit) more conventional number 2's.
I would usually try not to go down that road, but it is of vital importantance as it is one of the considerations they have when judging if Cian neeeds to be isolated. For them to gague poo consistency, they use the Bristol Stool Chart…. yes there is a poo scale!! The fact that one exists is funny enough, but the fact that it is named after Bristol makes it slightly more hilarious. In the film Twin Town, Swansea was dubbed a 'pretty sh!tty city'; but maybe that title should now go to our neighbours over the Severn Estuary.
Cian and I have continued to watch the Euro2016 tournament, and he was very happy that both Wales and England have progressed to the last 16. However, as I watched todays matches, you can tell that he is becoming slightly less enthusiastic.
Today we had a few visitors to the ward, as Jasper came all dressed up to accompany the author Wendy Hobbs in a story reading. Wendy also brought a number of other books that had been donated to the ward by various other children's authors.
As we are still isolated, Cian didn't manage to see Wendy but Jasper was able to spend a few minutes with him.
We managed to take Cian to McDonalds and take the food to Heath Park to eat. This worked so well as an extra physio session plus a good incentive to get him to eat. He managed about a quarter of a hamburger, a chicken nugget and a couple of fries.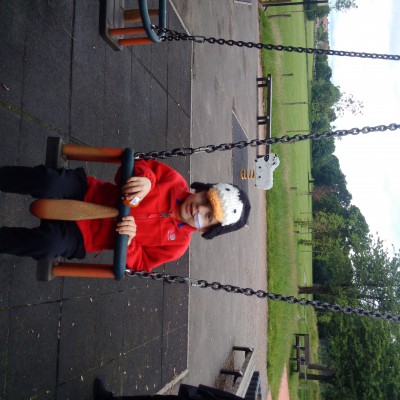 Also this evening the ward was visited by Mickey and Minnie Mouse. Again due to infection control, they weren't allowed to come too close, but we did manage to see them at the door.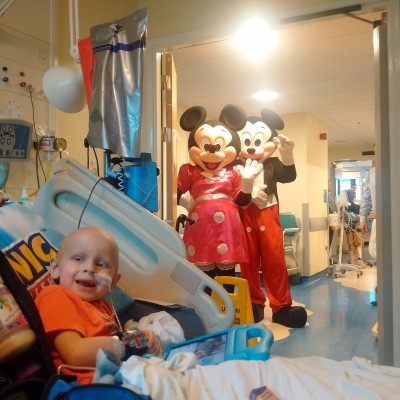 The visit was organised by friends of Demi, who is a brave little girl Swansea who has just returned to the ward to continue her chemotherapy, following an operation in Birmingham to have her left arm amputated.
Demi is an inspiration to us all, as her positivity and fun-loving attitude has demonstrated that there is nothing that these children cannot overcome. She is always surrounded by a commited group of very supportive family and friends.
You may recall that Thursdays are when all the consultants and professionals have their 'Grand Ward Round' and make ongoing plans on individual cases.
Given all the positivity this week in terms of Cian's well-being and weight gain he has achieved all the targets set), we hope and expect that there will be a plan for discharge. It will probably not be before this weekend, but certainly within 7 to 10 days. I will make sure to update you all when we have a clearer understanding ourselves.
Thank you so much for your continued support!