After having two very positive days, we were wondering what
Tuesday might bring, especially as we were heading to Velindre Cancer Centre
first thing, and the prospect of more General Anaesthetic (GA) … something Cian
hadn't woken well from in the past!
So Tuesday morning, I encountered severe grouchiness and
moaning!! But thankfully that was not
from Cian but from Mum. However, she can
be forgiven, as her sleep had been disturbed by Cian's faulty mattress and the
growing fear that we would experience similar transport issues to Velindre that
we faced last week.
I know what you're saying, "How can a mattress be faulty?",
well Cian's mattress is self-inflating, and the air within it changes position
every few minutes, which is supposed to minimise bed sores for those who are
immobile for long periods.
Ordinarily, this is absolutely fantastic; but like all
technology, when it goes wrong it can be a pain. So the faulty mattress sounded a very loud
alarm at regular intervals throughout the night; which didn't seem to bother
Cian, but did have an adverse effect of mum's fragile mood.
So to compound this, there was some confusion about what
form of transport Cian would have to take him the mile to Velindre and at what
time could it be expected. In the end,
it did turn up later than hoped, but at least the transport was suitable.
So although mum was very edgy, Cian was in surprising good
spirits considering he had been 'nil by mouth' since 2 in the morning, except
for a few sips of water until 6 am.
When we arrived at Velindre, Cian was given GA and went to
sleep. This process was administered
through his Wiggly (I can hear you all say, 'ah the Hickman Line'). This was much smoother than previous GA
doses, as it didn't need a gas mask (which frightens Cian), or through a
cannula (which I'm told can sting a little).
While Cian was 'under' and the radiologists did their thing,
we were sat down with the consultant to go through 'consent'. This process I refer to a 'positivity-ectomy'
as you are subjected to all the nasty side effects that are likely to happen
both in the short term and the long term.
These are things that are not only uncomfortable, but also life
changing.. But however bad these are, we know that the end goal is to have Cian
with us, and cancer free.
After about half an hour we were allowed into the recovery
room, and wait for the moment of truth… Cian's awakening… would he wake
throwing punches as he has previously or would he surprise us.
While we were waiting, I asked a question that made mum
wince a little and seemed to surprise some of the medical staff. I asked whether I would be able to see the
images taken by the camera of the inside of my son's body… which they happily
obliged.
I was taken through each of the images by a radiologist and
explained what each of them represented and how they would help in the
treatment. This was fascinating, and
although some may find it a bit creepy, my philosophy is that we are not just
being subjected to this treatment, but that we also get involved in it. I don't pretend to want to be an expert in
any of it, but hopefully a greater understanding will bring a better
appreciation of what Cian is going through and why.
Cian quietly woke from his slumber, not fighting, but
craving… you guessed it, a ham sandwich and milk!
And the day just got better!! Amazing!!
Much less complaining about pain, and more just being Cian,
which is just an incredible feeling.
Once we got comfortable back at the ward Cian was visited by
a Santa from Caerleon Childcare based in Llanishen, Cardiff;
and Lee Selby, the
IBF Featherweight World Champion! Cian,
although hasn't really been introduced to boxing as yet, he does know a fair
bit about wrestling so he knew the significance of the belt that Lee brought in
to show him.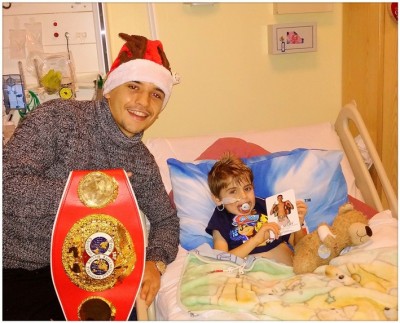 It was also nice of Lee to include Cian in his Twitter and
Facebook feeds.
Another plus point this afternoon was Cian's cooperation
with the Physio team, who had him, me and mum playing on the floor; which
involved a few games whereby Cian had to stretch for toys.. he especially liked
hitting his toy dinosaur who was attacking his helpless parents, and also
shooting me with a nerf gun.
Yet another positive, was when the consultant asked Cian to
wiggle his toes, and then he preceded to wiggle his foot… which was a surprising reaction.
We have to thank our friends (I won't embarrass by naming
them) who live within the short journey from Noah's Ark to Velindre, and looked
after Dylan and Bethany for most of the day.
They thoroughly enjoyed themselves there. When I picked them up at 4pm, I was on strict
instructions from Cian to return with a McDonalds.. which I duly obliged and
treated the other 2 to a McFlurry each.
We also have to thank our 'Essex' family who sent us a
parcel of goodies that arrived today. In
fact we have received a few such parcels, gifts and treats from a number of
friends and family; for which we are extremely grateful. It's not necessarily the goodies (which are
very nice) but the sentiment that always comes with them. We are truly humbled by everyone's generosity,
and I hope these posts go a little way to repaying some of that!
Cian fell asleep before 6pm this evening which has allowed
me to finish this post a little earlier than usual.
It has been a very positive day that has smashed our
expectations. We, and the rest of the
ward has had a chance to experience the funny and mischievous Cian that close
friends and family love.
I hope to share some of that pre-cancer Cian with you all in
a later post.