I am going to keep this update Short and Sweet. Short because I'm using my phone to compose it while I'm at the hospital on Cian duty without my laptop; and Sweet because it felt like Cian had a better day today.
He seemed a bit more alert; there was less complaining; we had him giggling a few times; and he appears comfortable that I have taken on the role of primary carer tonight while mum goes home with the other two.

Today started a little earlier than I had anticipated as Dylan, Bethany and I took the short detour to the BBC Studios in Llandaff on the way to the hospital. This was due to Good Morning Wales wanting an interview relating to Cian's visit by Gareth Bale.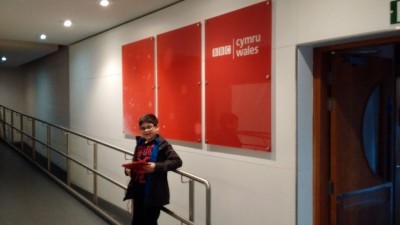 The whole story has taken on a life of its own as I hadn't realised, until my nephew pointed out to me that it is also featured in the South Wales Echo, including the front page.
I'm sure as well as proving that Bale is a top guy it's also raising the profile of Cian's condition and hopefully result in positive action.
Dylan and Bethany got to see the inside of a working radio station, which again is a fascinating experience for them and hopefully distracts from the seriousness of the situation. Also everybody involved in the show were very welcoming and appreciative.
Today has gone really quickly for me today, which hopefully is because Cian was more responsive; but also because we had a few visitors, which always breaks up the day.
Mum and I have also been given the responsibility today for feeding Cian's medication through his tubes. Although the nurses would be quite willing to carry on performing this task; it's another job that if we are confident of performing and can undertake it safely, then it will be another tick in the box for us possibly taking Cian home for a short period when the time is right.