Cian didn't sleep too bad overnight on Monday, he woke
occasionally during the night to have a drink, but he went back to sleep ok…
and he woke up in a reasonably good mood.
We did have a toilet issue in the morning which soon woke us
both up at about 7am. Up until now, I
have purposely avoided all mentions of pee and poo, but unfortunately it does
play a part of our daily rituals and can cause a couple of problems. I won't go into any of these with any great
detail out of fear of losing readership and embarrassing teenage Cian in future
years.
Also after what seems like forever of dark days and
miserable weather, we were finally greeted with some sunshine… but like Cian's
good mood, is this the calm before the storm; as the forecasters predict Frank
is set to cause havoc.
Cian actually fell back asleep at half 9 and didn't wake
back up until half 12, so I knew we were in for a busy afternoon as there was a
lot to fit in. This was a day where all
the non-essential (in an emergency care perspective) staff came back to work
after an extended Christmas weekend.
First was the arrival of mum, Dylan and Bethany who come
bearing gifts.. well a sausage sandwich for yours truly made by my
mother-in-law. It's the little things
like that which can brighten up my day.
Next were the physios, who set up a couple of benches so
Cian could sit (with support) and play with some of his Christmas presents,
with the help of Dylan and Bethany. Cian
really started to enjoy himself after a slow start, so he asked to go to play
in the playroom to continue having fun.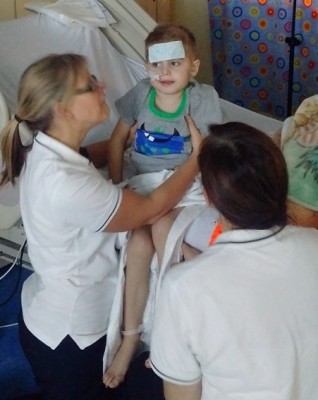 From this point Dylan, Bethan, Cian and I went out; but mum
said that Cian had lots of fun and everyone was commenting on how loud Cian was…
finally they were seeing the real Cian.
So while this was happening, Dylan, Bethany and I were off
swimming. The charity Latch provide
passes for families to use the facilities of the Cardiff Medical Centre Sports
and Social Club; so this was a great opportunity to unwind.
When we got back we found out we were evicted from our VIP
room. This wasn't surprising as we were
in the high dependency unit; and as Cian had thankfully stabilised since his
episode a couple of weeks back, it was time to move to a normal room.
Cian's mood did dip in the after this, and I could only
think that the move had unsettled him.
He had obviously become comfortable in his surroundings, as did we all;
and it was a little daunting to think we would be sharing a room with another
patient, as we did have the luxury to manage easily Cian's environment in terms
of light and sound, which was critical to his mood because of his constant
headaches.
This didn't remain a concern for long as our new roomy had
to be moved themselves.
On the other hand it may have been nice for us and Cian to
have company; but we always get to meet up with the other patients and their
families on the ward and share experiences.
Also today, the inevitable has started to happen… Cian is now losing his hair at a quite a rate
and no doubt it will all be gone by the weekend. It will now be a case of monitoring how Cian
handles it, plus Dylan and Bethany. It
is quite a noticeable change to Cian and it will now make him conform to the
stereotypical image of a cancer patient; and this might generate some
challenging questions from the 3 of them.
So as Frank starts to batter the UK tomorrow, Cian has to
face his next round of chemo. Although
Cian coped well with his last lot, this will be a completely different
concoction of chemotherapy drugs with different side effects. Hopefully, Cian will continue to be able to
react positively to the chemo with little or no adverse reactions.