The start of the week couldn't have gone better, as Cian
woke and relieved some of the tummy pain that had been building up since the
end of last week. This was a huge weight
of our minds, and also from Cian's belly.
I said I wouldn't elaborate on some of these issues, but it
is posing a major headache for us and I want to document it for others reading
this who find themselves in a similar predicament… or you are a medical
professional that can offer any advice!
If you research the chemotherapy drugs that Cian is taking
and the side effects for radiotherapy… they all say that they can cause diarrhoea,
AND they can cause constipation… as can half the other medication that Cian
is receiving to alleviate other symptoms.
It is basically all or nothing, and there is little more that Cian's
carers can give than what they are already offering… without causing further
complications elsewhere!
So week 2 of Radiotherapy awaited, and instead of the usual
transit van style ambulance picking us up, we were treated to a much smaller version
commonly referred to as a Wheelchair Accessible Vehicle (WAV). This is where a wheelchair can be wheeled in
from the rear and fastened into place.
This was useful to me, as I am acutely aware that we are
going to have to trade in our car for a more 'Cian friendly vehicle' when he is
allowed home; and this gave me a good indication of what the layout of a WAV
could be.
It seemed very practical and Cian was comfortable for the short
distance we had to travel. But I am not
sure if this is the best solution for us in the short term. I think that whilst Cian is still small
enough, and I am still (just about) young enough; he may find it more comfortable
to sit in a normal car seat, albeit adapted to make it more comfortable for
Cian's condition and easier to manoeuvre Cian in and out of. The vehicle will probably need to be bigger
than our current one with sliding doors.
If anyone has experience in this, or can make suggestions
then we would welcome you sharing those.
It was quiet in the ward over the weekend, and that rolled
over to the start of the week. As a
result, we had a nurse escort to Velindre; which was good for her, as it was
her first visit there… and good for us, as she was able to provide additional
information and advice… and monitor Cian's wellbeing.
His mood on waking up from general anaesthetic was not good
today, and daddy caught the brunt of it again, while mummy had the job of
calming him.
I promise that if and when he becomes a father, I will get
him to read these blogs and hopefully he will understand that no matter how
silly dads can be, they love their kids just as much and now and again need a
little love in return.
After his treatment, we got him settled back in the ward
where it was time for his visits.
The doctors were happy; the physios were happy; the
dietician was happy = daddy was very happy!
This could be mostly contributed to Cian's increased
sensitivity and movement in his legs that we observed over the weekend. This was widely welcomed; albeit a little cautiously!
It's totally understandable that no matter how promising it
is, the experts (and us) are aware that things can get worse as much as they
can get better… and it comes with a little bit of a price….
When Cian lost the feeling in his legs, it was preceded by
nerve pain, itchiness (like severe pins and needles) and aching. Now that sensation and feeling is returning, the
same symptoms are rearing their head. I
hope that it will only be in the short term as those electrical impulses are
reigniting, but they may even be more chronic due to misfiring signals because
of the trauma of his spinal cord… only
time will tell.
I am back at home with Dylan and Bethany this evening, and I
don't think there is much to report from mum and Cian at the ward.
But before I sign off I was given my first readers question
today!! It came from Cian's school
friend Evan, who asked "What is the patch that is often on Cian's forehead?" This is a fantastic question, as they do
appear on most of the photographs of Cian, and it's a question that is asked by
lots of the doctors when they first meet Cian.
They are called, "Kool'n'Soothe", which are gel patches
that are cold to the touch, and can be placed on the forehead to hopefully help
with headache and fever symptoms.
Cian's primary tumour was on his spine and spinal cord, and
when he first underwent surgery we were hopeful that none of the cancer had got
as far as the brain; but unfortunately this was not the case as the MRI had
shown that seeds of the cancer had impregnated the meninges of the brain, which
is protective layer that protects the organ.
This has been giving Cian severe headaches, which has made
him more sensitive to light and sound.
Although not instructed (nor discouraged), we have been
supplying Cian with "Kool'n'Soothe" on a regular basis. He seems to welcome them and it gives us the
satisfaction that we are doing all we can to help. Unfortunately though, they are not provided
on the NHS. The hospital will provide a
gel pack that you can either put in the fridge or microwave, depending on what
type of pain you are trying to ease, but these are not very practical to stick
to someone's head and hope that it will stay there.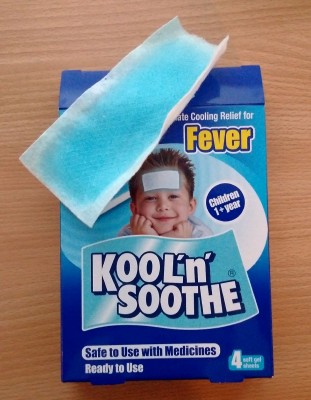 We have probably averaged one pack a day for the entire 6
weeks he has been in hospital, which is proving quite expensive… to the point
that mum has even cheekily emailed the company, to see if they volunteer a
batch.
Between ourselves, we have even joked that we could get
companies logos written across them and use it as sponsorship… but seriously, this is not an endorsement of the product.
Touch wood, Cian has started to complain less about head
pain. Could this be the chemo and
radiotherapy working? Or Cian is having
more pain elsewhere that is distracting from the headaches?
Please, if anyone has any questions, ask. I've said previously that I am always asking
questions, and I do find this process fascinating, although I would rather be
learning it from a third-person perspective than actually living it!