So, could today have gone as well as yesterday? That was the key question I asked myself when
I woke this morning.
When you've had a good day, you just want to continue the
momentum with positive progress.
A text from mum at the ward suggested he was still in a good
mood, following a decent night's sleep.
My night was pretty good too. As well as writing the blog, I was relaxed
thanks to my Indian Head Massage courtesy of Latch earlier that day; and when I
got home I realised that the cleaning fairies had been, in the form of my
in-laws. What an amazing and unexpected
weight off the shoulders that was!
Although we have got into a pretty decent routine in terms
balancing our time and attention between home and hospital… some of the
everyday mundane things have taken a backseat, but we are aware that the house
does need to be clean and tidy for comfort and preparation when Cian will be
allowed home (even for a short time). We
believe that there are things happening in the background that will make that a
possibility in the coming weeks/months.
So once I got Dylan and Bethany to school, I drove to
Velindre to meet up with mum and Cian ready for day 8 of his radiotherapy.
One of the negatives of his increased awareness, was that he
was able to tell us how scared he was about going under General Anaesthetic,
but apart from a few tears he is coping amazingly well. It helps that we can tell him that he gets 3
more 'Beads of Courage' for his trip. 1
for the GA; 1 for the radiotherapy; and another for an ambulance trip!
He didn't wake as well this time around; and again dad is
the focus of his frustration. I've got
to thank Kathryn and Jacqueline for the reassuring messages that Cian does love
me. To be fair, with a little coaxing
from his mum, he will apologise later in the day!
We got back to the ward and settled Cian for a short break
before it was time for him to show off his progress to a couple of physios that
haven't seen him for a while.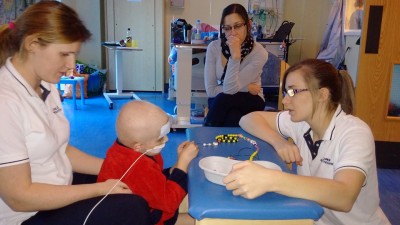 We decided to coincide his physio to adding more courage
beads to his ever-growing collection!
Cian was back on his feet for a short time again during his
session.
Before it was time for mum to leave to look after Dylan and
Bethany, I had a reflexology session upstairs at Latch. Don't think that these parent treats are
available every day, but it has been nice to take some time to myself… and I am
not turning down the opportunity to have my feet played with for an hour… although
it didn't feel like an hour as I managed to sleep through half of it!
Late afternoon was broken up by visits from his big sister
Jessica and niece Skylah, who played some games with Cian… and then his uncle
G.
I am on Cian duty tonight, and we are trying a little
experiment to test how increased sensation below the waist has improved in
certain other areas.