Some of you eager beavers would have noticed that I didn't
blog last night. The reason being that I
was on Cian duty at the ward, and we had a little drama to deal with… nothing
too serious, but I will come to that a little later.
Firstly to Wednesday morning. Radiotherapy at Velindre went well, Cian was
in a reasonably good mood being put to sleep and waking, which is all we can
ask for.
His trip to and from the Centre was using the Wheelchair
Accessible Vehicle (WAV) rather than the bigger transit style ambulance. For some reason Cian prefers these smaller
vehicles, maybe because he can see out
of them better or that you feel less of the bumps in the road.
Not too much to say about when we got back to the hospital,
as you guys are likely to know the routine just as well as me by now.
What does happen on a Wednesday is that mum leaves in the
afternoon to go and pick Dylan and Bethany up from school… so it was a case
of preparing Cian for a lads night in.
Mum was leaving a little earlier on this particular day, as our kitchen
cupboards and fridge freezer now resembled something that Old Mother Hubbard
would have even been ashamed of.
For the last few weeks, we have just stocked up on the bare
essentials.. and now our kitchen was essentially bare!
Because of mums early departure I thought I would have to
forego the Wednesday reflexology session.
But I was surprised to find that the lady that provides the service at
the Latch Offices was prepared to come to the ward and deliver her magic. The only downside to this was that I had an
audience of Cian and Kimberley the play specialist.
Whilst receiving more Beads of Courage, Cian was introducing
Kimberley to the craziness that is The Aquabats. For those who are not in the know, The
Aquabats Super Show is a kids TV programme of superheroes, who also happen to
make up a rock band. Cian and my favourite
track of theirs is 'Burger Rain'.
So whilst I was unable to fully lose myself in my relaxation
class, it was a welcome break.
Whilst I was still in touch with my feminine side, Cian and
I decided to find our inner 'Brony' and watch 'My Little Pony Equestria Girls
: Friendship Games'. Don't judge us, we
were introduced to it by Bethany and we like the songs!
But next it was time to man up and prepare for our lads
night, which consisted of a few games of FIFA on the in-room PlayStation (as we
are still in isolation); a takeaway consisting of burgers (it must have been
listening to Burger Rain), chips and onion rings; and watching the FA Cup
Replay between Leicester and Spurs on the TV.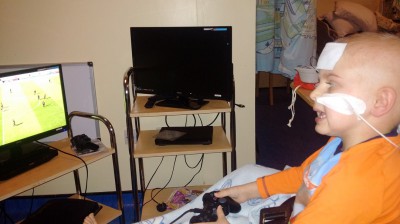 All seemed to be going well, until a combination of our
greasy tea, Cian's cough, and the administrating of his evening meds caused to
little fella to be sick…. and oh no!!… his NG Tube came out!
This is a nightmare scenario, as it is now quite late, Cian
is upset, and we need to give Cian a new tube.
I mentioned in a previous blog that I would willingly
volunteer to have an NG tube inserted myself and allow Cian to witness it. Therefore I can be sympathetic to what Cian
is enduring and experience what it feels like; also it might give Cian the
confidence to have one inserted again.
Unfortunately it would have been against hospital protocol,
which I fully imagined would be the case.
The nurses tried twice to insert a new tube, but Cian was
too distressed to allow the tube to go down.
There was an alternative… we could try to give Cian his
medication orally and the tube could be inserted whilst he was under General
Anaesthetic at Velindre the next day… but there was no way that Cian was
going to agree to this. Cian's
reluctance to take medicines directly into his mouth was one of the main
reasons for him having the tube in the first place. So we had to accept that Cian would have to
miss certain meds through the night, but where they could be given through his
wiggly (intravenously), then they would.
So Thursday morning it was the usual mayhem of Cian being
examined by a doctor (to make sure he is fit enough for his radiotherapy); he
is dressed; I wrap him in loads of layers; prepare his hospital bag and wait
for the ambulance… Although this time I was also discreetly handed a new NG
tube to give to the anaesthetists at the Cancer Centre.
When the ambulance was there we made our way into it and I
realised I couldn't see Oski. I asked
Cian if he had him, to which he replied yes and indicated that he was keeping
warm in amongst the 4 different blankets that Cian is wrapped in.
So off we trotted to Velindre where mum was already in
attendance. When we reached the waiting
room and peeled back Cian's layers we realised that Oski was missing. Now I was convinced that we hadn't dropped
him but had left him back in the hospital room, but this didn't stop Cian's
bottom lip from trembling and saying how scared his bear would be on his own.
We reassured Cian the best we could, which wasn't for long
as it was time for the radiotherapy.
I've mentioned in a previous blog that we are unable to
witness the procedure due to the anaesthetist's procedures… just in case
something does go a little awry. We
usually go to the canteen where I've got enough time to enjoy a sausage
sandwich. Whilst there today, I phoned
the ward and explained the situation about Oski, and said that if they found
him ' to make him comfortable'.
Cian wasn't best pleased when he woke up, as he noticed he
had been tricked into having a new NG tube inserted…. and also having his
nails cut. Cian is not a fan of having
his nails cut, and him being in an induced sleep gives us that extra
opportunity to get things done. So a huge
thanks to the staff who went over and above the call of duty to help.
We tried to calm him down by showing him Aquabats on our
tablet. This meant that Colin, our key
helper from the anaesthetists department, was also introduced to them.
So when Cian had calmed and recovered to a reasonable level
it was back to the ward to be reunited with Oski.
I have got to hand it to the ward staff, not only did they
make Oski comfortable in Cian's bed… but they also arranged a few of Cian's
other soft toys in a circle to show that Oski was playing his 'What's Up' game
with his pals, to demonstrate that he wasn't lonely when Cian was at
Velindre…. this brought a huge smile to Cian's face!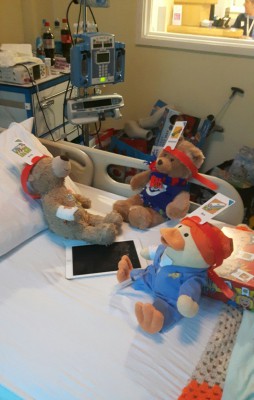 As well as Cian's usual physio session we were visited by
Ann the physio; Dr. Heidi (our oncology consultant); the dietician; and a
couple of occupational therapists. They
all wanted to discuss one thing… and that was Cian's opportunity to leave the
hospital at some point at the weekend to go home for a few hours.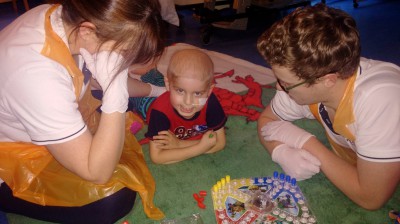 Given Cian's remarkable progress in the last 2 weeks, this
now seems a reality barring some downturn in Cian's health. Our only consideration now is transport from
and back to the hospital… but there are things in place to facilitate this.
We also had another visitor.
One of my friends on Facebook had a mutual friend who had not long been
through what we are going through. Her
daughter is now in remission from a brain tumour.
Our treatments and experiences differed quite a bit; which
is not surprising as every disease is not the same and everybody's journey will
be different…. but there is a lot of common ground, especially when you are
talking about difficulties in diagnosis and the emotional rollercoaster that
you have been forced to ride!
She brought in a few bits and pieces for Cian from her
daughter (who is the same age as Cian), knowing he was stuck in isolation. I hope Cian will get to meet this brave
little girl when they both (hopefully) attend a party being organised by Latch
for past and present patients at the end of the month!
Just before I left this afternoon, we had a parcel
delivered. Inside was a Welsh Rugby
Union polo shirt and hoodie. Cian had
been asking for a rugby top for a couple of weeks. I also bought hoodies for Dylan and
Bethany. They will be perfect not only
for the upcoming 6 Nations fixtures, but also for St. Davids Day in little over
a month. daddy was regarded as a hero once more!
Although Cian opted for an England FA Bead Bag, I have
managed to keep him (and the other 2 Manc born children) loyal to Wales when it
comes to the rugby.
It's Friday tomorrow, so I will be staying at home, and I am
not due to see Cian at all because I am delivering Dylan and Bethany to their
grandparents straight after school, and heading to Merthyr for one of the
organised charity nights.
I am sooo looking forward to going. I will be seeing people that I haven't seen in
years; and it is a clear demonstration, that although I haven't lived in
Merthyr for over 15 years , people do not forget nor change; and another
example how valley communities should be treasured and not ridiculed like it
has been in some of the media.
If someone had said 2 months ago you would be going to see
lots of your old friends; while having a few beers; listening to live music;
and also raising money for worthwhile charities, I would have jumped at the
chance. It is just unfortunate the
circumstances for why it has been organised.
Therefore, I won't be blogging tomorrow night, but I hope to
have lots of stories to tell on Saturday night, along with an update from mum
as to how Cian has enjoyed the start of his weekend!