Cian and I woke sluggishly from Wednesdays night sleep. That's my fault for allowing Cian to stay up
to keep me company watching the footy; but we were ready in time for when the
ambulance driver arrived to whisk us to Velindre.
Mum turned up just as we were getting back out of the
ambulance.
Cian was in quite a good mood going into his radiotherapy,
but woke up in a right grump.
There were a number of factors that we could attribute to his
bad mood, such as tiredness; the anaesthetic; feeling down; or just a bit of a
tantrum.
From a parenting psychology point of view, it is difficult
to spot genuine bad behaviour, as we are always quick to blame the illness or
the situation; so do we offer sympathy, or be strict during outbursts?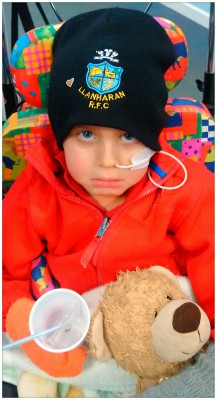 This doesn't just apply to Cian, but also to Dylan and
Bethany; who have on occasion demonstrated behaviour which we wouldn't
ordinarily accept.
Cian calmed down before the ambulance arrived to take him
and mum back to the hospital.
I went and picked up my mate Ian, and we went back to my
house where we continued to make minor adjustments to Cian's room in
preparation for the day he can stay home overnight.
Back at the ward Cian had his daily physio session, which
today consisted of a game of skittles.
Also the session included a visit by an Occupational Therapist who came
to fit Cian for a specialist car seat.
The seat looks very much like a regular car seat but offers far more
comfort and support than what any able-bodied child would require. It also provides a swivel function that will
make it easier to get Cian in and out of a vehicle.
During all this going on the official announcement was made
that Cian was now OUT OF ISOLATION!!
This initiated an impromptu party where all the guests in
with Cian, who are required to wear gloves and orange aprons during the 10 day isolation
period, ripped their protective layers off and started to throw them around the
room!
I picked up Dylan and Bethany from school at 3:30 ready to
take them to the hospital a day earlier than usual, because they have an 'inset
day' tomorrow.
Dylan, Bethany, all the other children, and even the teacher
were all wearing the pyjamas / onesies.
This was in support of Cian and Latch.
So I have to give Llanharan Primary School huge credit; not
only for raising over £400 (which is a staggering amount for a relatively small
school), but also having the kids in their nightwear which would save me a job
later on!
Our journey into the hospital involved dropping off Ian to
his family and doing a fast-food run for our tea; which we all ate in the
playroom to formally celebrate the end of our quarantine!
The 3 siblings all played a number of video games in the
playroom and back in Cian's room. One
was Lego Marvel Super Heroes, which had been lent to Cian by his teacher and
her family.
When it was time for bed, it was up to the accommodation for
me, Dylan and Bethany. We have been
given a new room which is almost identical in layout to our old one, but gives
us a bit of a change and a fresher feel.
Friday promises to be a good day as it is the start of a
long weekend for Dylan and Bethany; so hopefully it will mean that all 3 kids
can have some fun without being locked in Cian's room.