On Friday Cian and mum went on the early morning visit to
Velindre for radiotherapy whilst I stayed at the hospital with Dylan and
Bethany who had spent the night with me at the Latch accommodation as they had
an inset day at school.
I gave them the option of going to the Cancer Centre, where
I would have been able to show them the machinery and explain what was going to
happen (although they wouldn't witness anything). They declined, which is fair enough and I
certainly wasn't going to push it.
So we had a relaxed breakfast and headed to the ward and the
playroom to await Cian's return.
Dylan played on the video games, while Bethany and I helped
Kimberley, the play specialist with some Valentines related arts and craft.
When Cian got back he was straight in the playroom to play
wrestling games on the Xbox with Dylan, where he was making one young girl and
her mother laugh as he was providing a running commentary of his fights.
However, his games were cut short as we had a visit from
Occupational Therapists for a fitting for a new wheelchair for Cian.
Cian's current wheelchair is built for the maximum comfort
and support, which was definitely what was needed when he first woke from
surgery and had very limited movement and was extremely ill.
Now his movement and health has improved to a point where he
can have a chair which he has more control over.
The demonstration chair the OT's brought with them was
easily collapsible and less rigid than the one he's got now and has the larger
wheels you would associate with wheelchairs that will allow Cian to move
himself using his arms.
You could see Cian get excited, as he had asked his mum a
few days ago what sports can he do if he is in a wheelchair… which is another
remarkable comment of positivity from Cian which had taken us by surprise.. to
which mum showed him wheelchair basketball.
From that day he has tried to stretch down to move his little back
wheels on his chair with very little effect.
When they tried him in the new chair, he was off!! I thought it would take days or even weeks
for him to master it; but after a couple of demonstrations on how to turn, he
was spinning all around the room.
The only problem now is that they had to take it away; but
he will have one of his own in a few weeks.
We also had a visit from a community OT who discussed what
alterations could be made to our home to ensure Cian's long term needs are met
and he is safe and comfortable. So a
further appointment has been made for a home visit from them to make
assessments and take measurements.
So with the OT visit and new car seat / wheelchair on order,
I have allowed myself to think longer term, which is an amazing feeling. For weeks, the focus has been to make it
through the days and weeks hoping Cian shows some little signs of improvement.
It was so busy for Cian that we had to postpone his tutor
session, and only managed to squeeze physio in to the end of the day!
In the evening we were visited by Cian's great aunt, who
brought his cousins Jason and Ayah, who were visiting from Birmingham.
Ayah presented Cian with a card that all her friends from
school had made for him.
They all had great fun together playing whilst mum was
'perfecting' her balloon modelling skills.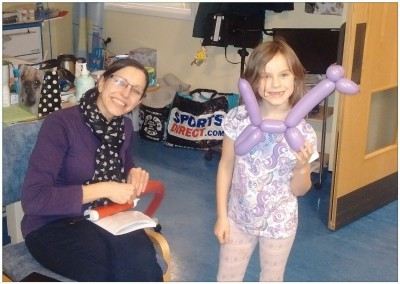 We all settled down before 9am as this Saturday is going to
be busy.
Saturdays are usually pretty relaxed as there is no
radiotherapy, no tutoring, no formal physio; it was just a case of playing a
few games and preparing for the Circus Themed Latch Party in the afternoon.
We were told earlier in the week that we could have taken
Cian home on both the Saturday and Sunday (not overnight); but the 3 kids have
been looking forward to this party for weeks.
By all accounts (as it is our first one), it is an annual
fun get together for all past and present patients, along with their
families. There is a different theme
each year, and it contains food & drink, entertainers, craft stalls, a
professional photographer… and more.
It was held at the All Nations Centre, which is a conference
building just the other side of the busy A48 from the hospital. I walked Cian over in his wheelchair. It was the first time I have had to travel
any kind of distance pushing the wheelchair.
It has given me a taster of the challenges ahead regarding looking for
dropped kerbs and finding accessible entrances and ramps.
The party was a brilliant occasion and the children
thoroughly enjoyed themselves. They
bumped into some of the people we regularly see, such as the Latch Support
Workers and Social Workers; other children and parents that we know from the
ward; Ann White, the siblings play therapist; Ann the physio, who Cian barely
recognised not dressed in her work gear; and Jasper the entertainer.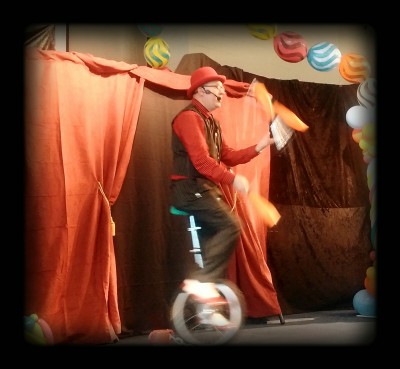 Jasper appeared as a different character to the one that
turns up at the ward, but it didn't take Cian too long to recognise him.
Cian also enjoyed seeing the Storm Trooper (Star Wars) and
Chase (Paw Patrol) mascots. Paw Patrol
is by far his favourite children's programme; and it works out well that it is
always shown on Milkshake (Channel 5) at Velindre, just before he undergoes radiotherapy.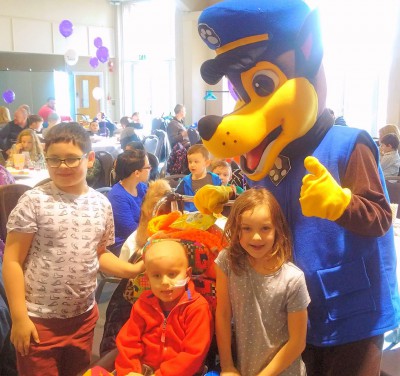 What was also good is that Cian ate a couple of slices of
the Dominos Pizza that was available. We
are eager that Cian continues to eat lots, because at the moment he is having a
break from the food supplements; and providing he can maintain his current
weight or put on a little, then we hope he won't need to go back on it.
I got Cian back to the hospital just after 3 while mum took
D&B home where they were going to be looked after by the grandparents, for mum to attend the Ladies Night at Llanharan Rugby Club in support of Cian.
Cian and I have spent the evening playing games, ably
assisted by Uncle G who popped in. Cian fell asleep at about half 8 after a very tiring day. Hopefully he will sleep well so we are ready
for our trip home for a few hours on the Sunday.
I will tell you all about the home visit in the next blog,
but not even I have got access to anything regarding the Ladies Night.. and I'm
guessing 'What happens at Ladies Night, stays in Ladies Night'.
If I do hear of any highlights, or if someone wishes to
write a short (clean) summary of the night (as much as you remember) as a guest
blog, then please let me know!
The night will also mark the end (slightly early but
deserved) of the Dryathlon, where a number of people including Mummy Case and
Cian's teachers stayed sober for a month.
They set themselves a target of £500, which was smashed as they raised
over £1,200!