Sunday morning arrived and things were looking good. Cian just had an annoying little cough, but
woke with no obvious sign of head
pain… which I am sure is more than can be said about the "Ladies" that
attended the Night Out at Llanharan Rugby Club.
Congratulations to the girlies who managed to raise over £2,500 on the night!
Thanks to Helen Proudfoot, who has offered to compose a blog
that will give you the low down fn events on the night.
Sunday meant one thing… if Cian is deemed well by a doctor
in the morning, then I can take him home for a few hours.
He passed the examination with flying colours, so it was time
to order our taxi (courtesy of Latch).
It will be much easier when his car seat and wheelchair
arrive to take him places. Although it
is great to have him home, it will give us a new sense of freedom to consider
taking him to other places.
It is likely that some of the monies raised by the
fundraising will be put to good use to help part-fund these vital pieces of
equipment. This is the type of thing we
anticipated having to spend money on.
Although some of it will be found by the NHS and other charities, the
price of the equipment did raise a few eyebrows; but if we are told by the
health professionals that this will aid Cian's mobility or recovery then we
will definitely go for it!
Although I got Cian home in one piece, the same can't be
said about his medicines, as I managed to break one of the bottles
en-route. Fortunately, the ward advised
that it shouldn't cause too much problems to omit that particular dose from his
afternoon meds.
There at home waiting for us was mum, Dylan, Bethany, and
the grandparents who babysat the older 2 for mum to attend the Ladies Night.
It was nice to have Cian home for a while, and it does
provide a feeling of normality as all 3 kids argue about what is going on the
TV. Luckily I got to take one child out
of the equation as I took Bethany to her friend's birthday party for a couple
of hours.
The day went so fast, and our half 6 return to the hospital
soon arrived. Cian was exhausted by this
point and managed to fall asleep in the taxi; which cannot be an easy task when
sitting in a wheelchair and your head is flopping all over the place. So I had achy arms by the time we got back
from holding his wobbly head upright for 20 miles.
He woke at the hospital and had a 2nd wind as he
requested a take-away. So I ordered
pizza and onion rings. Usually I wouldn't
entertain feeding him gone 8pm, but as he also had to have a blood transfusion
(as his count dropped just under the level needed), he was likely to remain
awake for a couple of hours.
As there was no way we were going to eat everything we
ordered, we invited one of the other young lads from the ward to join us for a
feast. Now Cian is in a better state of
health to be able to interact with other children on the ward, he is starting
to make a couple of friends.
When the transfusion finished, Cian was complaining of a bad
tummy and was a little bit sick when I gave him his night meds. I hasten to add that I don't believe this to be
as a result of our night snacks. The
tummy pain continued through the night so I had to get up a few times to make him
more comfortable.
The morning arrived too quickly and it was time to start
week 5 of radiotherapy. Cian still
astounds me that he is still willingly going without any fuss, although the
experience is not a great one.
As is the usual Monday routine, mum was there to greet us
from the ambulance. All went according
to plan and Cian woke from GA a little groggy (not surprising given the previous
night) but soon ready to head back to Rainbow, while mum headed into town to
see work colleagues and do a little bit of shopping.
Our ambulance driver on the way back was a guy I used to
work with in South Wales Police, so it was good to have a catch-up with him.
Cian knew what he wanted to do when we got back! Straight in the playroom and play WWE
AllStars on the Xbox… and to keep the wrestling theme going, Kimberley (play
specialist) found a ring and wrestling figures for us to all to play with
during his physio session, which was also done at the playroom.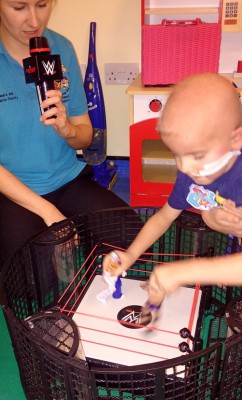 Cian had great fun with the figures as Rey Mysterio pounded
Randy Orton on lots of occasions in some pretty violent cage battles. I don't mind Cian taking out some aggression
on plastic figures when it is amazing that he doesn't show any other anger and
frustration (except for the few times waking from his radiotherapy anaesthetic).
We also managed to have a game of bowling and shopping, both designed to monitor progress on his movements.
Cian was visibly still tired and looked as though he was
about to fall asleep upright when we put him in his standing frame, so physio
had to end and he was put to bed for a nap.
Although the snooze only lasted half hour it was more than
enough time for him to regain some energy.
Cian has been examined today to see if they can determine
the cause of his new cough. Hopefully it
will be nothing too serious that it will cause another stint in isolation.
Mum returned to the ward in the afternoon in time for me to
go and pick the other 2 from school.
Tonight they had a home session with Ann White, the play
specialist from Kids Cancer Charity. As
I pottered around upstairs I could hear Dylan and Bethany discussing cancer
with Ann and asking her questions. This
is exactly what we hoped would happen, as they are likely to ask someone like her
questions than me or mum.
Fingers crossed Cian and mum will have a peaceful night at
the hospital and that annoying cough doesn't bother him too much.