Well according to the Chinese calendar, the year of the
monkey is upon us, and Cian is embracing his cheeky mischievous side.
His playful nature is keeping the ward amused, which is forgivable
given how hard he is trying and how courageously he is fighting.
He showed both his fighting and cheeky sides in his recent
physio sessions.
We have ventured off the Rainbow Ward into the specialised
Dolphin Zone. This is the area of Noah's
Ark Children's Hospital dedicated to physiotherapy, and has all the tools you
would expect.
Every time you see footage of physiotherapy on a news story
it is usually of someone taking first tentative steps (physically and metaphorically) on
parallel bars; and this was Cian's opportunity.
Cian has done amazingly well, but for some reason he doesn't
appreciate the progress he is making. He
considers walking back and forth holding bars 'boring' never mind how
significant to his recovery everybody else considers it.
As well as the physio, everything else is falling into place
in terms of future treatment.
We had a multi-agency planning meeting including our social
workers, physiotherapist, a ward nurse, the consultant neurologist and the Noah's
Ark consultant oncologist… we had a conversation with our consultant oncologist
from Velindre in the morning.
We have now had it confirmed that Cian's final radiotherapy
session will be on Thursday this week, rather than Wednesday next week. That decision has been made due to required
doses to both brain and spine being reached.
This is a huge relief and another major milestone achieved.
What this now initiates, is the resumption of chemotherapy,
of which there are 7 courses left.
It is possible that a course can be administered every 2 weeks,
but due to the likelihood of infections and recovery time, we have been told to
plan for every 3 weeks. Therefore simple
mathematics puts the rest of Cian's treatment taking anything between 14 and 21
weeks.
Although Cian's progress in terms of physiotherapy has
exceeded all expectations to this point, it is expected that the chemo will hit
him for 6 and his energy levels are going to wane over the coming months. However, that was also expected during
radiotherapy. Only time will tell how
much further forward we will get with his mobility during this time.
The best news we received is that everything is now in place
to plan for Cian to spend more time at home, including overnight stays.
The essential equipment should all be delivered and
installed by the end of this week, and mum and I are receiving all the
necessary 'training' to ensure we can use it all safely.
Also in the last couple of days Cian underwent a hearing test at the Audiology Unit (Penguin Zone).
When Cian was deteriorating in mid December he started exhibiting extra symptoms, some of these were an apparent loss of hearing and / or comprehension, and a significant change in his vocal tone. At this point Cian was not well enough to take a hearing test that would accurately reflect any damage.
Also it is possible the radiation he has been receiving from Velindre can also have an effect on his hearing.
So now was an opportunity to see whether there are concerns over his hearing, or whether he just posseses the gift of selective hearing like me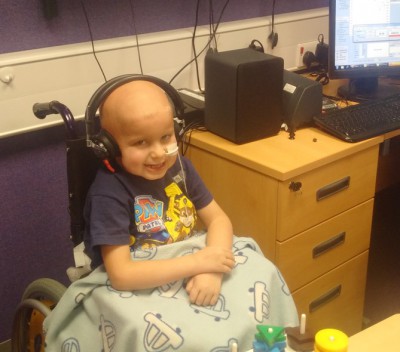 So both Cian and Oski were subjected to a series of tests, which seem to indicate that the hearing in his right ear is below the expected level. Before it can be ascertained whether this is something that will require attention we need to put Olive Oil drops in the ear once a day to try to dislodge any potential 'debris'. One reason for the hearing loss could be that the radiation is causing skin to flake within the ears that could be causing a blockage.