So there you have it!
After 6 weeks and 29 doses, Cian's radiotherapy has now come to an end.
It is difficult how to sum up emotions when you reach such a
significant milestone.
We are obviously thrilled that not only has he endured what
is an extremely intensive course of treatment to his brain and spine; but he
has actually thrived!
We were told to expect Cian to become lethargic, suffer
nausea and a string of other possible short term side effects; when in reality
we have seen remarkable progress in both his cancer related symptoms
(headaches, speech, hearing), and his mobility.
But we are also acutely aware that the treatment does come
with a price in terms of long term side effects, which will have to be managed
when they rear their head in the coming years.
We need to pay tribute to the large number of people who
supported us through this step of our journey…
* Alison Johnson, who showed such empathy and care on our
first visit to Velindre when we were at our most vulnerable.
* Dr. Owen Tilsley, our consultant oncologist at Velindre who
oversaw (but rarely seen) all of Cian's treatment.
* All the staff that worked on LA1 who were so amazingly kind
and generous to Cian.
* The on-call anaesthetists who arrived every day to work
their magic by putting Cian to sleep and safely waking him again.
* The Ambulance Liaison person Paula who always ensured that
Cian was prioritised for his transport back to Noah's Ark, and the rest of the
Welsh Ambulance Service drivers who were fantastic escorts to and from Velindre.
* The rest of the staff and volunteers based at Velindre who
always made a fuss of Cian, and always polite and courteous to mum and I.
* Most of all, Colin and Sue who work with the anaesthetists and
were without fail the first at Velindre to prepare everything for Cian and the
last to leave when his treatment finished.
They were a source of constant amusement to Cian, and incredible support
to us parents.
When we got back to the ward today, Cian's room had been
decorated with a banner from the play staff and a chocolate cake awaited us! We had a small impromptu party just to mark
the occasion.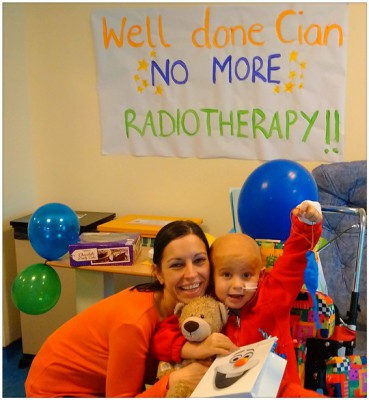 But this is just a milestone, so there could be no resting
on our laurels. It was back to medications,
physio and Glomerular Filtration Rate (GFR)!!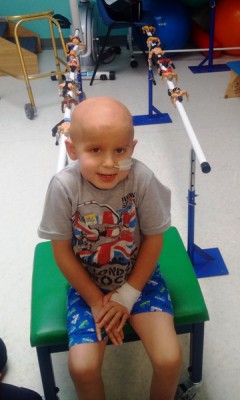 As a parting shot, the anaesthetist at Velindre inserted a
cannula into Cian's hand. This wasn't to
be particularly cruel to him, but to prepare him for a test later that
morning. A GFR test is used to measure
kidney function, and works by injecting a radioisotope into the blood stream,
which can then be measured at given intervals throughout the day by extracting
a blood sample and sending it for a test (I hope I got that right).
By having the cannula inserted whilst under general
anaesthetic prevented some trauma to Cian, that didn't prevent him becoming
upset when the radioactive liquid was injected into him, and the experience
will no doubt have marred his first trip to the day-beds section of Rainbow
Ward!
Today we have been notified that results of genetics tests
have been returned. The limited research
into AT/RT has found some causal links to genetic mutations. Also there was a fear that there might be
something hereditary we would need to be concerned about.
It will take us some time to digest what those results are
and ask relevant questions. Even though
we are learning quite a lot, there is still a limit to what we can comprehend
and process. My only knowledge about DNA
derives from the forensic aspects, which have little or no bearing to this
level of genetics!
We also have a clearer idea of what form Cian's next course
of chemo is likely to take when it starts on Monday; but again we have a few
queries around that and what it will mean to us practically.