Although the title of the blog makes passing reference to
the rugby win last night, it is mainly connected to the change in Cian since
the beginning of the week.
Cian was feeling the effects of last week's chemo between
7-10 days after it was given (Monday-Wednesday).
As I mentioned in the previous blog we were praying for poo
as Cian was heavily constipated that was affecting his eating, drinking and
overall wellbeing, He was in quite of bit of tummy pain which meant he couldn't
do as much as he would normally do.
Without going into the grisly details, Cian felt much better
by Thursday. This coincided and was boosted
by mum returning, who he hadn't seen for a couple of days as she has spent some
time catching up with her work colleagues in London.
Lorraine has been employed for the law firm Eversheds since she
left college at 17, and has worked at their offices in Cardiff and Manchester;
but has had close links other offices in the UK and abroad.
Work has had to take a backward step in terms of priority
for us both, and it is fortunate that we both work at places who have sympathetic
policies when it comes to these situations.
Lorraine has given great commitment and dedication to the
firm and her loyalty has been repaid, not only in terms of the compassionate
leave that she has been granted to concentrate on Cian, but also by the friendship
shown to her by all her colleagues.
Eversheds have chosen to fundraise for LATCH as a way of
demonstrating their support to us.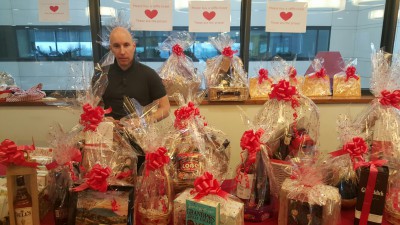 They have organised a number of different events. These are just a taster of what the Leeds
office has contributed to:
Activity

Amount

Cake
stall, raffle and jelly bean jar

£1,693.63

Donation
from Leeds CSR Committee

£300.00

Donation
from card sales

£15.00

TOTAL

£2,008.63
While Lorraine was in London, she took part in a quiz night
that was raising money for LATCH and a number of other worthy charities
(unrelated to Cian).
So the end of the week has been positive again with Cian
being back to his bubbly-self, and a lot more active during physio.
His dose of Vincristine chemo that was delayed at the start
of the week was finally administered on Wednesday, and his next round (4 out of
9) starts on Monday.
Before that, we have the weekend!! As well as enjoying the rugby last night in
the hospital, we are taking Cian home for the rest of the weekend.
We have made his bedroom even more to his liking with new
blinds and curtains. The old ones were
never made for a child's bedroom and a little boring, so we have livened them
up with his favourite colours.