Cian came home on Saturday morning for the 3rd
week in a row, and it was for another 2 nights.
He got to spend some time in the house with mum on Saturday
afternoon as I got to take Dylan and Bethany to watch Cardiff City play Preston; thanks to
free tickets from the community arm of the club who visited their school on Thursday
along with 2 players (David Marshall and Anthony Pilkington), and Bartley (the
club mascot).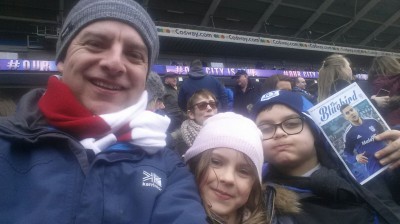 Dylan was particularly pleased as he asked Anthony Pilkington
how many career goals had he scored, to which the reply was 63. Thanks to a couple of penalties, we were able
to see numbers 64 and 65! The Bluebirds
went on to win 2-1, and push for a place in the Championship play-offs.
Cian would have loved to come with us, as he loves Cardiff
City; but again we need to be careful on what we expose him to, especially on
such a cold day.
He continues to amaze us that he took the disappointment of
not being able to go in his stride. Most
children in that situation would have been disappointed to the point of
tantrum, but Cian seems to understand the predicament he is in.
We made up slightly for any feelings of abandonment by
bringing him home some Bluebirds merchandise and promising that we will take
him to a game (probably next season) when he has completed his treatment.
I actually found myself looking at the facilities for the disabled
when I was at the match, which seemed pretty good.
He had a comfortable night on Saturday with no signs of the
constipation he was experiencing last weekend.
On Sunday, we started the day with a movie. It is always difficult to find a film that
the 3 of them will enjoy, but we opted for Strange Magic. Although being slated in most reviews, as a
family we thoroughly enjoyed it when we went to the cinema to see it last year.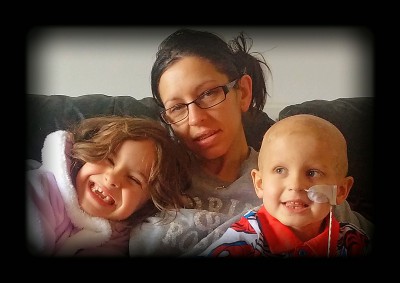 The songs in it are particularly good, and when Cian was
coming home in the taxi he was singing along to the Kelly Clarkson track,
Stronger which feature in the films soundtrack.
We timed it right this week that Cian didn't have to be
injected with GCSF, so that was a relief to him and us, but we still have to
give him all of his meds and feeds.
Although he is feeling much better this week, his appetite is still very
poor, and even though we are not overly concerned as his feed through his NG
tube will ensure that he has all the appropriate nutrition, we don't want him
to get used to not having to eat and drink orally.
We managed to get Cian in the bath this evening
(Sunday). It's his first bath at home
since November! We didn't put too much
water in, as it is imperative that we don't get his wiggly (Hickman line) wet. That would be a big no no and would cause
huge headaches.
But it was good to get him relatively clean, and will
hopefully help his skin in its ongoing recovery from the Radiotherapy treatment.
He's now back to sleep and geared up to go back to the
hospital tomorrow where we anticipate the next round of chemo!