When we got Cian back to the hospital on Monday morning it
was a little frantic. The ward continues
to be busy. There are a few new
diagnoses but also an influx of children who are part-way through their
treatment and are usually at home, but have picked up an infection so require
extra observation.
The important thing for us was to see whether Cian was well
enough to start his next course of chemotherapy; so he had blood taken to get
reviewed and also an electrocardiogram (ECG).
He should have had an ECG before his very first course of
chemo back in December, but as it was given to Cian in an emergency situation
the ECG was a luxury he could not afford.
We also got Cian weighed, and unsurprisingly he had lost
weight whilst in our care over the weekend.
Not necessarily our fault, it's just that Cian's lack of appetite is
continuing to cause us a few headaches.
So the less food we can get in his mouth means the more food that has to
go through his nose by way of his liquefied food supplement.
Before his latest 'Jelly on the Belly' scan (as Cian refers
to all sonic scans such as ultrasounds), Cian would have his physio session.
We were back down the Dolphin Zone playing a variety of
games that would continue to test Cian's strength and balance. He had plenty of energy as he 'bust some
dance moves' as a victory dance every time he wins a game or gets a strike on
the skittles.
The ECG took place in the Starfish Zone which is adjacent to
Dolphin. It was a strange and nervy
experience.
The scan took almost 3 quarters of an hour, which to my
uneducated eye was a long time to check if Cian had a regular heartrate.
If any of you have had or been to a pregnancy ultrasound,
you will know that you would never choose to play poker with a
sonographer. They take their
measurements, photos and recordings of the screens without any emotion on their
faces; and as time ticks on you start to convince yourself that there is
something wrong. It was taking so long
that Cian decided to snooze through most of the process.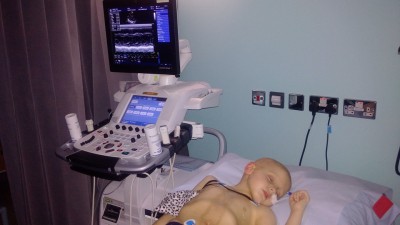 As I am writing this
blog, I am also conducting some research… and although we were told Cian was
having an ECG by all the healthcare personnel on the ward, I am now more
convinced that what Cian had was an echocardiogram. Although they sound very similar, the latter
is much more involved. These are carried
out by cardiologists.
At the end of the procedure a couple of consultants walked
in to review the results, After a few
discussions between the professions and scratching of chins, they suddenly
smiled and said that Cian's heart is healthy and in good working order….. sigh
of relief!
I then had to head home to take care of Dylan and
Bethany. Chemotherapy was now going to
recommence on Tuesday (St David's Day).
One of the miracles attributed to the Patron Saint of Wales
was that whilst preaching to a large crowd, the ground beneath his feet so that
he could be seen and his message heard.
Taking a (less miraculous) leaf out of St. David's book, I
decided to write to my Member of Parliament Huw Irranca-Davies to urge him
support a parliamentary debate into funding for research into Brain
Tumours. Hopefully my message will make
it a little further, not by the creation of a new hill, but the power of this
blog and social media. Thanks to those
who have liked and/or shared my Facebook post, into which Huw Irranca-Davies has
been tagged.
I haven't been into the hospital at all on St. David's Day,
as I had the privilege to see Bethany and Dylan and perform in their respective
Eisteddfods. It was a shame that Cian
couldn't perform with his classmates this year, but I have taken a few photos
and videos to show him when I next see him.
I have had regular updates from mum through the day. A synopsis is as follows:
He was a bit lethargic during physio this morning, but made
up for this when he had a 'dance-off' with Jasper the Entertainer. He would have been extremely pleased to see
Jasper who has been poorly for the last couple of weeks so hadn't been to the
ward.
He has been creating an Easter Bonnet, which will need
decorating in the coming days.
More importantly was the start of his next round of chemo,
which signifies the second cycle. I will
try to explain Cian's chemo protocol in a future blog, but I will try to make
things a little clearer as Cian's chemo
is made up of 3 cylcles, each with 3 courses and each course has seven
different chemotherapy drugs with multiple doses… have I made it clearer??
Anyway, it is a lot of very powerful drugs.
The drug he is having today is Doxorubicin, which is the
chemo he had administered as an emergency in December. This time though it is being given more slowly and through his
wiggly (which wasn't put in the last time).
As a nod to St. David's Day the drug is red in colour and he
will have 2 lots of it over the next 48 hours.