So my previous blog was Saturday afternoon, just shortly
before the England v Wales rugby game kicked off. Cian was taking an unusually long nap due to
how poorly he had been feeling.
He woke during the rugby and got to watch most of it, which
was probably not the best medicine given the way things panned out on the
field. Although that was followed by
Everton v Chelsea in the FA Cup, which as a toffee fan was much more satisfying
and took the edge off the disappointment of the rugby.
Cian continued to feel under-the-weather for the rest of the
Saturday, but perked up a little on Sunday.
This was made better by some visitors. We had Aaron, Lisa and Marnie in the
afternoon followed by Uncle G in the evening.
This was very positive as for most of the time Cian was out
of his bed and playing on the floor.
Like I've been told by some of the nursing staff, actually venturing out
of bed can make you feel a little better…. and sick children always look more
ill if they are lying in bed!!
For our lads night in we opted for a takeaway, watching wrestling
and a bit of football.
We watched Gareth Bale for Real Madrid. He always asks when Gareth is coming back to
visit. He also said the same when I
pointed out Rhys Webb coming on for Wales.
Our Christmas visitors certainly made an impression on Cian,
even though he wasn't well enough to really appreciate it at the time.
For the takeaway Cian had a burger, chips, garlic bread and
coke. He only took nibbles of the food
and sips of the coke. Although it
appears to be a waste of food and money, it was a huge improvement, and I did
feel a tad emotional.
Cian had a mammoth sleep Sunday night, and it must have done
him the world of good as there was a noticeable improvement. He was a lot more alert and talkative. Therefore Cian was able to have a lesson with
the teacher first thing in the morning.
After his lesson had finished and I managed a quick shower I
got him out of bed and on the floor again.
This is not as easy as it sounds as Cian usually has 3 different tubes
attached to him via pumps that are mounted on a stand.
One is to give him liquid food through the NG tube (via his
nose); and the other 2 go into his wiggly, one supplying water and the other
antibiotics. These pumps are plugged
into the wall.
So to move Cian means that I have to unplug the pumps. Place Cian in his wheelchair, whilst being
careful not to tangle or pull any of the tubes; push the wheelchair while
dragging the stand in close proximity; get
Cian out of wheelchair and onto the floor, again being careful with the tubes;
and plug in all the pumps.
We had a similar problem when the physios came knocking to
see if Cian was well enough for some exercise.
I knew that this would be a good opportunity for Cian to have a proper
go in his new walking frame.
It was a success, and although Cian did need a little
coaxing we got him on his feet and he managed to walk further than he has since
before his surgery in November!
This tired him out, but knowing how important it is to keep
this sort of momentum up, he had another go in the afternoon, this time walking
me to the lift when I had to leave.
When I arrived this morning (Tuesday), Cian was with mum,
Kimberley (play specialist) and another lady.
They were having a play/dance session involving a variety of different
props e.g. balls, books, parachutes.
Cian loved this exercise and it's the first time he has been
introduced to it. Anyone who has met
Cian will know how much he loves interacting with music.
I will find out who the lady was, what company she
represented and who organised her visit and will update this blog.
No sooner as that fun session finished, that Jasper visited the
ward courtesy of LATCH. This was a
timely visit as we were getting Cian ready for a physio session and another
walk in his frame… but he wasn't too keen… not that he felt ill, but was
more in a " I can't be bothered" kind of mood.
But with the help of Jasper (in his unique style) we managed to coax him up. Jasper, also made Cian 2 very impressive balloon models and let him wear THE HAT!!! But sssshhhh… that has never been allowed before!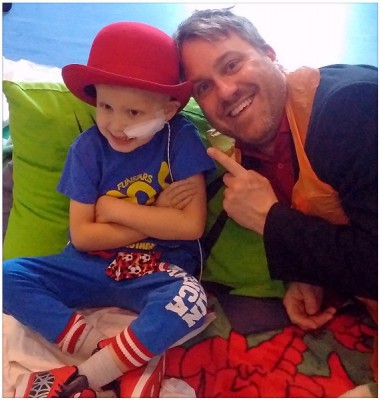 We had another go in the afternoon too. This time we found an opportunity to do it
without any of the tubes, as his antibiotics had stopped and we were able to
temporarily detach his feed and fluids.
This gave Cian much more freedom, and you could tell this by the
increase in pace and confidence.
Things are certainly heading in the right direction AGAIN, and I
am hoping that he will be out of isolation in the next day or 2, and may get a
trip home on the weekend.
Before this is a reality we will need him to be able to
resume takING food and fluids orally, as parents are not allowed to administer
fluids through the wiggly, which would be needed to keep him sufficiently
hydrated. We can put water down his NG
tube, but the fear is that his stomach might not handle the amount of feed and
fluid and he will be sick. That would be
totally counter-productive.
The other slight negative is that Cian is still neutropenic (i.e. his body hasn't recovered from his last
lot of chemo and he is still highly susceptible to infection). This has meant that the chemo he was due this
week has had to be delayed. We are not
sure by how much yet, but we are hoping that it doesn't spoil anything over
Easter.