Sunday night at the hospital with mum went well for Cian as he had a good night sleep.
In the early hours of the morning Cian was attached to fluids. The reasoning this time was not to keep Cian hydrated, although it does help, but to protect the bladder.
The potency of the drugs in his latest round of chemo has the potential of damaging the bladder, therefore they continuously flush water through Cian's system to ensure it offers as much protection as possible.
Cian would be having 3 lots of drugs, Ifosfamide; Carboplatin and Eptoposide. This regime is often shortened to the acronym ICE. For more information of what the drugs are, how they are given and the side effects, you can follow this link to the Cancer Research UK Website and look at schedule B.
His first batch of the drugs would start on the Monday and continue through Tuesday and Wednesday.
Cian was back to his usual mischievous self, and the only thing stopping him causing havoc on the ward was the fact that he was attached to so many pumps and he was still stuck in isolation.
All these restrictions also meant that Cian couldn't do too much movement in physio, but we did get him to stand whilst playing board games. His strength and control in his legs is improving all the time.
Our next task was to create a puppet theatre. Cian has always had an interest in Punch& Judy Shows and also performing. He has a toy puppet theatre at his nans which he always like to play with. The ward play specialist Kimberley helped us construct and paint our cardboard theatre.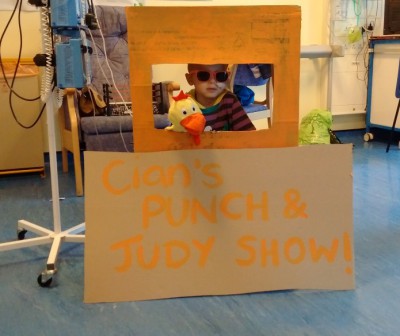 In the afternoon, Cian and I were joined by my brother Gareth (Uncle G).
Although Cian slept well on Monday night he woke on Tuesday morning with an upset tummy, very likely to be due to the amount of feed and fluid his body was consuming. Fortunately, it didn't last too long.
There was some good news in the morning as we were finally given the all clear and our isolation was lifted!! And to follow that we had a visit from Jasper who was try out Cian's puppet theatre and put on a performance for us, and then it was up to Cian to show Jasper how it is done!
Cian was a little lethargic on Wednesday, and this showed as he wasn't too keen to do too much in physio, so when that was out of the way he made his way to the playroom to make an Easter hat. The ward were having an Easter Bonnet competition on the Thursday afternoon so mum and Cian made a start by painting a hat created from 2 cardboard bedpans.
No sooner was this task completed at around 4pm Cian went back to his room into bed and off to sleep. A sleep that would last until half 7 the next day. This is exactly what happened the previous Wednesday.
The treatment is obviously taking its toll on him.
But the sleep at least allowed his body to rest, and although Cian has continued to complain about a bad tummy in the mornings, he had a good day and enjoyed his Easter Party in the Playroom with mum while I stayed at home and attended Dylan and Bethany's school Easter events.
We have brought Cian home on Thursday afternoon with the hope that we can take him away for the Easter Ban Holiday Weekend. As I am finishing this blog I have had to help sort out Cian who although hasn't been sick, he is retching. This means its touch and go whether we take the risk on heading to West Wales. We do have plans in place if he does fall ill whilst away, but the priority is that Cian has quick access to any help he needs.
He still hasn't been eating or drinking enough, so that is still something that we need to encourage over Easter… maybe the chocolate will help?