This week has been challenging in lots of different ways.
Firstly when we phoned the ward on Monday morning to confirm
Cian's arrival, it was explained that the ward was full and he may have to wait
for a bed.
This was to do with an influx of patients. I have previously mentioned that a lot of the
patients are able to spend long periods at home and only need to come in if
they are receiving treatment (i.e. chemotherapy) or there have been complications
(e.g. illness or infection). As we are
still going through a change in the season, this often brings coughs, colds and
fevers.
Anyway we came in as normal as Cian would need to have his
physio, and have blood taken to assess for his imminent next round of
chemotherapy. We could then wait for a
bed to hopefully become available.
It was agreed at our last planning meeting that due to the
intensity of Cian's chemotherapy and physiotherapy that he should be
accommodated on Rainbow Ward from Monday to a Friday, with the possibility of
home visits on a weekend.
Due to limited space we spent most of Monday in the
playroom, where Cian met Morgan. Morgan
has been receiving treatment for a while but has spent most of that time at
home so they had never previously met.
They both share the same age and interests so got on very well
together. It is always nice when Cian
makes a new friend. It also helps as
Morgan motivated and distracted Cian during his afternoon physio session (Cian
is back to receiving 2 sessions a day as he is well enough). This consisted standing in his frame for a
long period to build the muscles and posture.
We were allocated a room in the afternoon, but we ended up
sharing. This can be quite challenging
as although it's sometimes good to have the company, it does make things a
little more chaotic, especially at bedtime.
Cian and I were distracted as there was football on the TV
in the form of the Youth Cup Semi Final between Arsenal and Manchester
City. The son of a former colleague of
mine (Charlie Oliver) was on the City team so we were supporting them for the
evening. It proved to be positive as Charlie
and the City team have made it through to the final. Cian was made even more excited when he
received a message from Charlie and his mum via Facebook!
Cian had a good night on the Monday and slept peacefully,
but we knew he wasn't going to start chemo until at least the Wednesday as his
blood results showed that his body still needed an extra bit of recovery time…
so Tuesday was all about Physio and play.
Although the test results were saying Cian needed to recover, his demeanour
was saying different. It is the most
energetic I have seen Cian in a few weeks.
His physio session was positive and full of fun and hard work. He has started to tolerate a lot more in his
walking frame and the physiotherapists are getting to the point where Cian can
use the frame with just parental supervision!
Also Cian spent more time playing with Morgan, and both were
in the playroom when the ward received a new batch of Chemo Ducks courtesy of
Tony from the Dreams & Wishes Charity.
For those who may have missed an earlier post, Chemo Duck is an
excellent tool to demonstrate to children some of the treatment methods, while
also being a cuddly friend. Although it
is an American idea, Dreams & Wishes provide them to the children on
Rainbow Ward.
Although both Cian and Morgan have their Chemo Ducks already
they agreed to have photos taken with the new ones for the charity to promote
on their social media channels.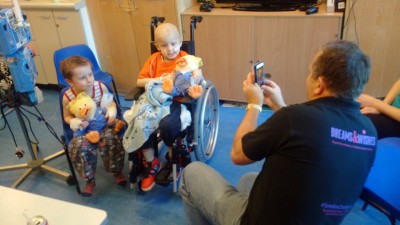 I left the ward early on the Tuesday afternoon to pick up
Dylan and Bethany from their club. Cian
and mum had a good night on the ward.
Wednesday has been mixed although mostly positive… Let's get
the negative out of the way first of all.
Cian's blood results still show that his platelet levels are
not where they should be to receive chemo, therefore the earliest to start the 2
day course is Thursday. Platelets can be
given in the form of a transfusion, but the decision is that we wait for his
body to recover naturally otherwise his bone marrow could become lazy. This is negative because, it lessens the
chances of Cian getting home on Friday… but there is still a chance!
Also in the afternoon, Cian was sick and therefore needed a
new NG tube… but on the positive side, he was much better accepting the new
tube than he has been previously.
Now the positives… Cian's energy levels have been quite high
and he has again enjoyed himself and worked hard during his physio
sessions. He has been in a good mood
chuckling and singing. He was visited by
Jasper, who had us all laughing. Cian
also made an apology card for him as apparently Cian wasn't in the best of
moods during his last visit (while I was away with Dylan and Bethany). The card was very well received.
He also had visits from the anaesthetists (Colin and Tasha)
who looked after him during his radiotherapy treatment. They even brought down a selection of hats
that we both tried out.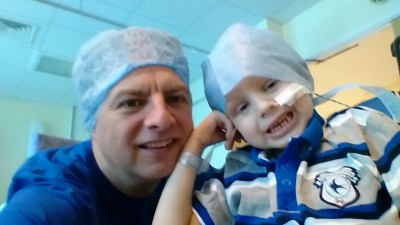 Then in the evening uncle G came in and we played a
selection of board games which kept us busy for a few hours. We were also able to wish G a happy birthday
and give him his cards.
Then to top it off, Cian and I cuddled in and watched a bit
of Red Bull Soapbox Racing which we thoroughly enjoyed. We just need a good night's sleep tonight and
positive blood tests in the morning which will trigger the start of his chemo!
Hopefully we can Cian home this weekend and enjoy himself,
before the effects of the chemo kick in next week!