Today's blog is going to be very positive, which is always a
great way to start a weekend!
Mummy and Cian both slept very well on Thursday night, and
our little boy woke up in quite a good mood… that is until he saw the nurses
entered the room with his meds.
Cian is a very perceptive little chap, his demeanour will
change on a person entering his room depending on what colour uniform they are
wearing…
Blue or navy signifies a nurse… although they are very
lovely, Cian knows that they are there to do a job, and it is never something
that Cian is going to enjoy. This will
spark Cian into complaining mode.
Light blue – Play assistants… these people bring smiles and
fun, and offer games and treats… Cian likes these people. They are also so skilled in being able to
calm children and explain in simple terms what is happening or going to happen.
White – Physios… again, these people like to play… their
games can be a bit more contrived to demonstrate Cian's ability to move and
breathe… Cian doesn't mind these people at all, but whether he will cooperate
fully can depend on his mood and how well he is feeling.
Now doctors and consultants don't tend to wear any uniform…
not that they are naked, but obviously get paid well enough to wander in normal
clothes. They usually travel in packs and
just like to chat and catch up on progress.
Now and again they like to attack Cian's joints with a tendon hammer or
shine lights in his eyes, but Cian will tolerate that.
I think Cian has now become more aware of the people in blue
overalls, with hair nets and masks… these are the dreaded surgeons and anaesthetists…
These are the people I think he will dislike the most going on past experience.
So back to today, after disposing of Dylan and Bethany, in
the nicest possible way, I got into the hospital at 11am; and was greeted with
lovely smiles… well at least from Cian J
We all put on our Christmas Jumpers and headed to the Playroom
where Cian played on the Wii; and then a trip down to Noah's Ark Reception,
where they keep the giant fish tank.
Cian has taken a bit of a shine to the fish and it's a great place to
just escape from the ward for 10 minutes and relax.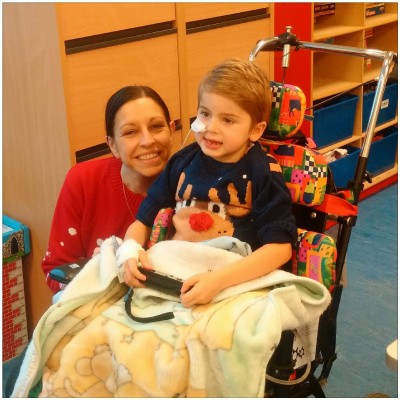 When we got back to the ward and settled Cian back into his
bed… he can't tolerate sitting in his wheelchair for too long… we had our first
experience of the 'end of treatment bell'.
This is a bell on the ward which is rang by a patient 3 times when they
have completed their treatment, and everybody on the ward congregates to
witness it.
A little girl on the ward received her last dose of chemo
today and looked thrilled to get the chance to mark the occasion. It is also a huge boost of morale for those still
undergoing treatment.
For those who know me through my work in 'fingerprints' will
equate this to that of Staffordshire Police Fingerprint Bureau who had a
similar type of bell to be chimed every time the computer system got a 'hit'!
Thanks to the successful installation of the Hickman Line,
from hereon in to be referred to as his wiggly (the phrase all the children use
for it), Cian has had his 2 cannulas removed.
Although this was slightly traumatic, it does mean now that
Cian no longer has 'lines' going into each arm; as together with the monitor
wire on his foot and the tube in his mouth, he was starting to resemble a puppet
that was being controlled by a horizontal pole with various pumps and fluid
bags.
The rest of the afternoon and evening has been fairly
uneventful, except for the fact that his appetite has been very good with him
devouring a McDonald's Happy Meal and drinking a considerable amount of milk,
which considering it's Black Friday is not going to have any bad effects.
Speaking of which, Mum has deservedly gone out with her work
colleagues tonight and left me in charge.
I'm sure she will be more sensible than others on Black
Friday, or tomorrow morning it won't be just Cian complaining of bad headaches.