Firstly my apologies for not posting in 48 hours, but Sunday
and Monday have been a little crazy… but not in a bad way… in fact things have
been quite positive.
As my previous post explained Saturday was a step backward
in terms of Cian's pain levels and mood… but Sunday we could a step forward and
then today (Monday) we saw a giant leap!
The only pain Cian had to endure (that was caused by another
person) was the removal of 3 plasters… 2 small ones that covered the areas
where his cannulas were inserted, which he grimaced at… but then came the biggy! The dressing that covered the area of his
spine where he was operated on. That one
did hurt quite a bit.
But now, we have reduced the number of things attached to
Cian's body. All we have left is the
tube that feeds Cian medicines and food supplements… and his wiggly (for those
of you paying attention, the Hickman Line).
One of the best things about hospital life on a weekend, is
that there are no outpatient appointments and therefore a lot quieter. This allowed me to take Cian for a walk (and
sometimes a run) down the empty corridors.
His wheelchair is pretty nimble.
Also, as there was nobody manning reception I gave Cian a
stint at the desk. He enjoyed this,
especially when one of his consultants walked by and gave him a wave.
Sunday afternoon also brought some family visitors which
always brings some welcome relief.
With them came Dylan and Bethany who had been shared across
their grandparents for the weekend… But now they got to spend the night with
dad in the accommodation.
Only one parent gets to sleep on the ward with Cian, but the
charity Latch provide families with on-site accommodation, for which we are
extremely grateful.
Our room consists of 2 single beds and en-suite shower room,
similar to what you would expect in a Travelodge. There is also 2 communal lounges, a kitchen /
dining room and a utility room.
We have Christmas decorations in our room, and although
Bethany was reluctant to stay at the hospital for the first couple of weeks,
she now feels happy enough to spend a night or two… so now I have been demoted
to a foldaway bed.
I took Dylan and Bethany home first thing Monday morning as
I had a couple of appointments to attend to; the first being a play assistant
supplied by one of the charities who specifically interacts with siblings to
help them understand and come to terms with the upheaval in the family, and to
ensure that they don't feel isolated. I
think Dylan and Bethany welcomed the distraction.
We also had a visit from the council to start the process of
assessing Cian's needs in the home and community.
While we were at home, Cian woke in a very good mood and
although still suffering from headaches, they appeared more mild than usual…
and on top of that, he had developed a monster appetite. He ate through mum's supply of ham sandwiches
and other goodies and accumulated a total of 1900 calories before I turned up
with a McDonalds for him.
He was also visited by 2 Santas…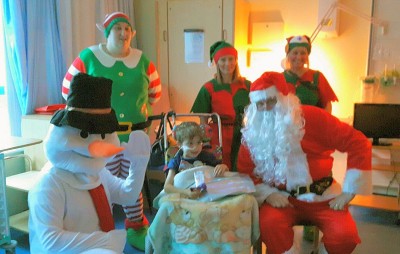 and the Cardiff Devils Ice
Hockey team.. or as mum referred to them, some hairy Americans (although they
were more likely to be Canadian) with black eyes!
Following more family visitors in the evening, it was time
for an early night for all of us. Tomorrow
(Monday) brings an early morning Velindre Cancer Centre to 'plan' for Cian's
radiotherapy. This will entail Cian
being fitted for a radiotherapy mask and ensuring that the precise measurements
required for this treatment are all ascertained.
As it is quite a daunting experience, even for adults, it
has been decided that Cian will be put to sleep under General Anaesthetic for
the procedure. And, as we have found
out, Cian always wakes from GA pretty grouchy.