As midnight struck, Cian was asleep with mum on the ward; while Dylan and I managed to stay awake long enough to see the new year in (Bethany fell asleep at half 11) at the Latch accommodation. Fortunately our room window faces towards the City, so we were able to see lots of fireworks going off!
Despite Cian receiving his chemo yesterday, he greeted 2016
in a very good mood and has now regained a taste for foodstuffs other than Ham
Sandwiches, Chocolate Mini Rolls and Milk!
Just to let you know, the bad moods that Cian has been
experiencing for the last couple of weeks, the doctors have put down to the
steroids that he was on. Although they
do wonders for his symptoms, apparently they are renowned for making you
extremely grouchy!! So I think we will
let him off!
And the reason that he has been in much better moods lately,
is that they have weaned him off those steroids in preparation for his chemo and
radiotherapy. The reason for stopping
this particular type of steroid is because it can cause an obstacle to his
treatment working fully… so we don't want that!
So now we have happy Cian back (at least in the short term),
I intend to make the most of it.
I must give a shout out to the ladies that bring Cian his
food on the trolley, who now know to stock a fresh ham sandwich every
lunchtime! Although this time Cian was
helping himself to the fish, chips and peas.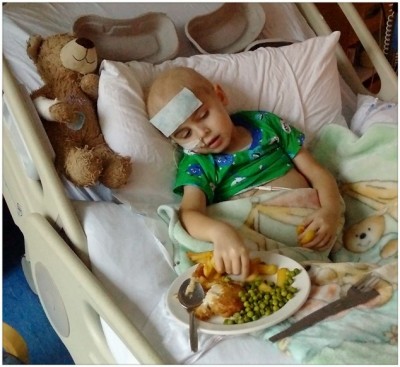 He ate half of the fish, a handful of chips, and all of the
peas; although we may have dropped a few somewhere in the bed… which Cian found
amusing. Please don't think from the photo that I made Cian feed himself using
his hands… it's just I had to take the photo and Cian refused to stop
eating. Who am I to argue?!
Dylan and I then ventured with Cian to the playroom, while
mum and Bethany went over nans for a few hours…. And while the women are away..
the boyos will play!
It was great to have Cian hysterically laughing, but I
should have saw the signs of possible oncoming discomfort that after each
episode of laughter came a little grimace.
When we got back to the room at half 2 and I managed to get
Cian back into bed, he was in quite a lot of pain and discomfort, that seemed
to originate in his head and belly.
I was relieved when mum and Bethany turned up, and as she
does so well, mum managed to calm him down… fortunately before he made himself
sick; which he seemed to be on the verge of.
Not only is vomiting a truly unpleasant act, (which some of
you hardcore New Year revellers may have very recent experience of) but it may
also affect Cian's appetite; he may vomit up some of his medications which
cannot just be re-administered; and he would also bring up his 'Nasogastric
(NG) Tube'. This is the tube you can see
coming out of his nose in which his oral medications are given.
The process of inserting a new one is not pleasant for
anyone involved, least alone Cian.
Once settled, Cian fell asleep… and has been sleeping ever
since! (and now it's quarter to 11 at night). He did wake crying during a visit by his Aunty Cathy. We will put that down to his pain so not to hurt my sister's feelings
So, Cian has slept all the way through his 2nd
day of chemo (for this particular course).
This is by no means a bad thing, but we will just have to see if he will
wake during the night, wake early tomorrow morning, or sleep all the way
through.
As it's daddy's shift, I hope it's the latter!
I am taking Dylan and Bethany home tomorrow to take them to
watch Llanharan RFC play RGC1404 which is being followed by a late afternoon of
fun and games in support of Cian. The
rugby club have been amazing in supporting us, as have the whole village of
Llanharan and surrounding villages. It
is a great example of how a community can rally around to support one of their
own. We are truly blessed to be
surrounded by wonderful generous people.