Firstly I'm pleased to report that the Tooth Fairy did visit
Bethany last night!
I was told this morning when we got down to the ward that
Cian woke half way through the night and was disappointed that he didn't have a
chance to go on the minky.
The minky is a very fluffy blanket emblazoned with the Welsh
Flag. Back home, whenever we are all
cuddled up together or having fun on the floor… the minky is brought out!
This is why Cian was so keen to go up to the lounge last
night and watch a film with Dylan and Bethany… it would be as close to
normality as he has experienced in weeks; but I said in last night's blog, Cian's
tiredness got the better of him.
So this morning, although I knew I couldn't get him
upstairs, we got the minky on the floor of his hospital room, on top of his
physio mat for extra comfort. We put on
a film and we all played games.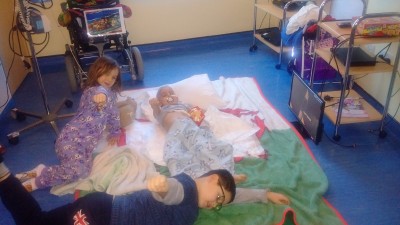 Cian had a whale of a time, and it's the happiest I have
seen him since he was hospitalised. It is
days like this that give us the strength to keep going!
On top of this, when he was on the floor he started to move both
his legs into positions he hasn't been able to for weeks.
OK, although this was huge for us, it doesn't necessarily
mean that he will regain full function; but what it does indicate to me is that
he will be able to move himself into positions that will make him more
comfortable and offer him more independence and less frustration!
Cian remained in this good mood through the afternoon. Mum took D&B home tonight ready for
school. Although Cian loves his Dad, he
would still much prefer to be looked after by mum. As I've mentioned before, as a carer mum
would always win.. I am the clown and entertainer.
Unfortunately Cian was sick tonight as I was giving him his
meds; and so his NG tube was regurgitated.
This meant a new one had to go back down… this is not fun, but Cian
coped really well and settled. This
allowed us to watch the dire Cardiff City FA Cup game together. Although the performance and score were
disappointing Cian did enjoy watching the Bluebirds.. so Dad is good for some
things!
We now go to sleep and prepare for another full week of
radiotherapy, but I do it with the hope that we will have plenty more days like today!