It didn't start too well as I missed Cian being put under
general anaesthetic (GA) and going into his radiotherapy session, as there were
traffic issues on the M4 motorway; but mum told me that Cian had woke in a
fairly good mood and spent the early morning dancing in his bed…
But how was Cian going to wake following his GA, considering
he was less than nice to me yesterday?… I needn't had worried. Although he took his time to come round, he
woke in a good mood and appeared incredibly aware.
I know that I am biased, but I consider pre-cancer Cian to
be above average intelligence, very switched-on to his environment, witty with
a great sense of humour and mature above his years.
The disease, together with the treatments appeared to erode
all these aspects of his personality, and although we have seen glimpses of the
Cian we know, these have still been muted glimpses.
Cian started asking for food and drink and appeared chattier
than usual. He also noticed that his
lower body was covered in bubble wrap.
As well as providing stress relief while waiting for Cian to wake (as
only bubble wrap can); it also keeps him warm.
He remarked that he looked like a Mermaid and started to move his
improvised tail. Well this made us all
giggle.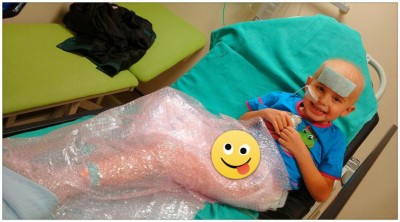 Cian made it to the ward with mum in the ambulance, while I
went to Tesco to pick up rations that Cian was craving when he woke up, plus
more packs of Kool'n'Soothe.
In Tesco, I was intrigued to see that there was a brain
related charity who had set up a stall in the store. I usually walk straight passed these sort of
things, but I wanted to learn what the charity did to help. Unfortunately, the people that manned the
stall were not specialists in neurology, or anyone who had any experience in
issues of the brain. They were just
persons employed to deliver a sales pitch and encourage people to donate money.
I wanted to set up a charity that raises the profile of the
kind of tumour/cancer that Cian has, and if I thought that any larger
organisation could take up that mantle then I would be happy to donate and use
them as a vehicle to achieve our goals.
But I have looked at their website that has some very basic information regarding
brain tumours; and although they state that childhood brain tumours are
particularly challenging, there is no information of how they campaign or
conduct research to improve outcomes.
So while I am not saying that this charity do not carry out
work that benefits persons with brain issues; the stall nor the website gave me
the confidence that they are doing enough to help children like Cian. Therefore, I am even more committed to start
something myself.
It took me a while to get into the hospital, as the air
ambulance was landing and brings traffic to a standstill, which can cause
mayhem. But when I did get in, Cian was
comfortable and still very alert… so we were keen to make the most of it!
The news of Cian's increase in sensation and movement in his
legs had got as far as the neurologists who visted Cian en masse to take a look
at him 'busting his moves'. To see the
surprise and satisfaction on their faces was extremely positive.
Next up was physio time.
Anne, the physio who had taken great pleasure in informing the
neurologists of Cian's improvement since his session a day earlier had noticed
even more strength and control in Cian and eluded to that she might try him on
his feet!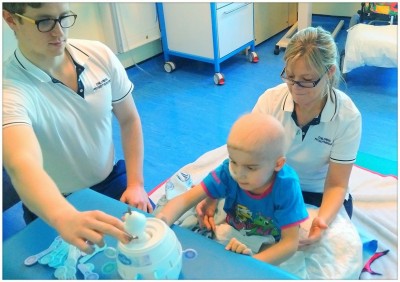 We had great fun playing games during Cian's physio that
challenge his movement, and even games for fun…

but the highlights was Cian
able to hold himself (for a short period) while sitting, and standing (again
for a very short time). This truly is
amazing news and very encouraging.
Next up was ward favourite Jasper, who is a
magician/comedian/balloon artist that is paid by the charities (on this
occasion Latch) to attend and entertain the kids. He last visited Cian before Christmas and he
could hardly recognise Cian. We were in
a different room, Cian has lost his hair… but also Cian was more alert… and
thoroughly enjoyed Jaspers goofy capers and making Oski dance to the Reel 2
Real and Madagascar classic "I like to move it". Cian also got a balloon sword and dog in Cian's
favourite colour orange.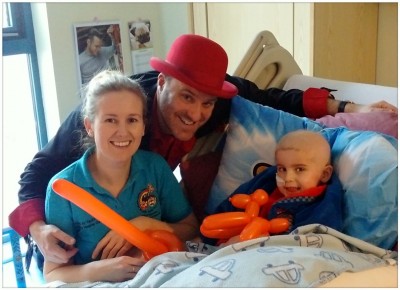 When Kimberley, our princess of the playroom kicked Jasper
off the ward, she came back to Cian to start his "Beads of Courage" journey. This is an initiative that was started in
America, but has been brought to the UK by "be child cancer aware", a charity
that is focussed on raising awareness of childhood cancers.
This is an incredibly positive experience that allows
patients to add a bead to their string every time they undergo a different
scan, treatment or procedure; and Cian likes this very much.. the only problem
we have is that Cian has 6 weeks of beads to catch-up with, which is going to
take a number of days to achieve.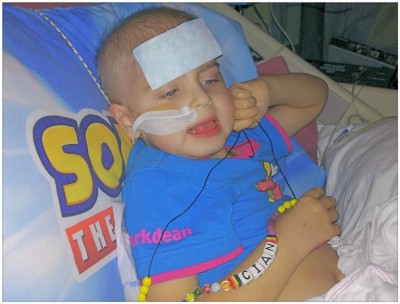 Also today:
* Cian received platelets (a compound of blood) as his levels
were starting to reach a point where they were needed.
* Daddy Case received an Indian Head Massage courtesy of Latch.
* Cian continues to be more aware as he has demonstrated that
his imagination is still active.
It really feels like today we had our baby boy back, and
long may it continue!