I won't spend too long blogging tonight as I haven't spent
most of the day with Cian.
It has been agreed that, providing there is nothing pressing
at the hospital, I would stay at home and wait for Dylan and Bethany to finish
school and then bring them straight to see Cian. That would allow me to catch up with a few
things in the house.
It was slightly delayed this evening as Bethany was invited
to her friends birthday party.. but when we did arrive we had a family
McDonalds before settling down. I have
Cian tonight while mum, Dylan and Bethany are at the Latch accommodation
upstairs.
So the update that I had from mum was that Cian's last day
of his 2nd week of radiotherapy went well and that he woke in a good
mood. As he didn't have me to berate,
Cian was chatting to Colin who works with the anaesthetists… although the
actual anaesthetist that puts Cian to sleep changes every day, Colin is more or
less a constant and is also a Godsend for me and mum as he is always there and
has things prepared before Cian gets to Velindre, and is always the last to
leave as he ensures things are left the way they should be!
When Cian got back, he was taken to the funky paediatric radiology
department for an ultrasound scan. An
ultrasound is best known as the scan they give pregnant women to check on the
progress of their babies.

In Cian's case, the scan was to see whether his bladder was
fully emptying when he was peeing. This
was a big moment, as this would determine as to whether a catheter was
definitely still needed…. The scan showed…… that Cian was emptying his
bladder!! Yay!!
Cian also continued with his physio today as he played
Caterpillar Scramble on his standy up contraption… I will need to check what
the official name of it is!
The only negative mum had to report was that Cian was sick,
and therefore up came his NG tube… Cian really doesn't like having one put back
in.. and I don't blame him, it looks uncomfortable. I may ask to see whether I can have one
inserted so I can at least empathise, and if Cian sees me having it done, it
may make him feel better for the future.
I am now prepared to volunteer for that as there is no way that I would
do something similar for the catheter insertion!!
So we are now looking forward to a nice family weekend!
Just to remind people that the first of our Charity Nights
is now only one week away!! I must thank
everyone who has organised these, as I have had very little personal
involvement.
Next week's gig is at Pentrebach Labour Club near Merthyr
Tydfil and features 3 live music acts as well as an auction and raffle. If anyone is interested in attending tickets
are £5. I am really looking forward to
it, as I am hoping to see lots of family and friends I haven't seen for a while…
providing my presence is not needed at the hospital!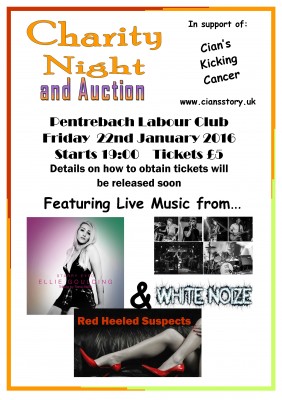 If anyone needs tickets, then you can email me at
daddy@ciansstory.uk