There was more than homecoming to look forward to this
weekend, and.. Wow… what a weekend that was!
I am absolutely shattered… but it was worth it!
Somehow I have got to think back to Friday morning. Friday's are a little different in terms of
our routine, but last Friday even more so.
Usually I would be dropping Dylan and Bethany to school and
instead of meeting mum and Cian at Velindre, I would spend the day at home
catching up with things and pick D&B back up from school and take them to
the hospital for the start of our weekend.
I had an irate text from mum first thing on Friday morning
to say that there had been a power cut at Velindre and Cian's radiotherapy had
been cancelled. It doesn't cause too
many hassles or risks in terms of Cian's treatment, but it does mean that this
missed appointment needs to be added to the end, so instead of finishing on
Tuesday 16th February, we now have to attend on 17th February. We just hope that this sort of thing doesn't
happen too often!
Cian made the most of his unscheduled long weekend, and mum
was able to take him for a walk in the hospital gardens, where he also made a
wish in the wishing well…. Although nobody has been able to extract the wish
from him.
I stayed at home and prepared for the festivities that would
be taking place in the evening; as Friday night was the Charity and Auction
Night that was organised in support of Cian.
This was homecoming number 1!
The event was staged in Pentrebach Labour Club near Merthyr
Tydfil, about 2 miles from where I was born in one direction and another 2
miles from where I was raised in the other.
What an amazing night!
It was fantastic to see so many friends and family in one room.
The night consisted of a raffle, an auction and 3 live music
acts Starry Eyed (Ellie Goulding Tribute Show), White Noize, and the Red Heeled
Suspects (they haven't got a website to link, but if anyone needs their details please contact me and I will be happy to put you in touch).
In total, over £3,000 was raised for charity; which is an absolutely
incredible amount. I can't begin to
thank everyone who donated auction and raffle prizes as I would be here all
night… But there are some people I would like to thank personally.
David Fowler, who almost singlehandedly organised the whole
event, from booking the bands; sourcing most of the auction items; promoting
the night; and playing main host and auctioneer!
Although Dai doesn't do this professionally, he has built
quite a reputation for helping organise charity events and I am so grateful
that he stepped up when Cian fell ill.
Carl Harbord. Best
man at my wedding, oldest friend (time, not age) and all round good guy. The event was his brainchild, and ably assisted
Dai during the evening. The fact that he
was kept so busy, did mean he didn't get as much time enjoying himself with the
rest of our circle of friends…
Aaron, who put me up for the night… given my snoring and tendency
for sleep walking it was really appreciated.
Ian, who was my designated driver from Cardiff to Merthyr
and back again the next day.
Zeehra Whitehouse, who organised the raffle element of the
evening, and whose boys donated their entire piggy bank savings to the cause
when they learned of Cian's illness after asking their mummy what the raffle
was in aid of.
Derek Broad, who painted a fantastic picture of the World
Champion Boxer Lee Selby who visited Cian in hospital before Christmas. This was originally going to be auctioned,
but was then decided that when Lee signed it, it would be given to Cian as a
gift.
Tom McCarthy from the up-and-coming Merthyr rock band,
Pretty Vicious. He and his father /
manager Mark turned up to lend their support to the night and bring some
auction items. Pretty Vicious have
already raised some eyebrows in the music business and attracting some significant
plaudits; so for Tom and Mark to make the effort to come along was
fantastic. I hope to organise for a
visit to the ward in the future, as Cian would be mightily impressed, as would
daddy!!!
Last but not least Geraint Meaker, who not only formed part
of the band Red Heeled Suspects; but also won the Cardiff City match tickets
and signed shirt in the auction and presented them to me so I could take Dylan
to the game the next day. That is an
incredible gesture that Dylan and I will remember for life!
In the next few days I will be adding any pictures / videos
I have of the event to http://gallery.ciansstory.uk/#!home . If anyone has anything they would like to
contribute, please send them to daddy@ciansstory.uk.
Saturday was a bit of a blur, not only because I was still
likely to be partially under the influence of the alcohol from the night
before, but also as it was going to be incredibly busy!
By the time I got to my in-laws to pick up Dylan and Bethany
and then take them to the hospital, it was already the time for me and Dylan to
head off the footy. At the hospital
visiting Cian was one of his teachers and her family, who were keeping Cian
amused on his the PlayStation in the room.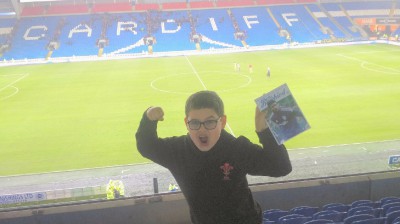 It was great, because Cian has now regained his full
pre-diagnosis personality. He is loud
and boisterous; and where he was definitely one of the quietest on the ward,
you can now hear him before you see him!
When I got back from the football with Dylan, it was all
about preparing for D&B to spend the night with me in the
accommodation. When we got up there they
both settled down to watch some TV and I managed to fall asleep by 9 o'clock
due to the previous night's escapades. I
woke at half 11 to find them still there watching their programmes!
Sunday, was all about one thing… Homecoming number 2!
Providing there were no concerns with Cian's health, he
would be allowed to visit home for a little while. Originally, it was going to be for a couple
of hours, which progressed onto about 4 hours; but due to Cian's progress this
turned out to be from 11am to 7:30pm (including travel time).
This was an incredible feeling and very emotional!
When Cian last left the house on 25th November
2015 to go to the hospital with tummy pains, we could never have known it would
be almost 2 months before he would be back home… and at the very lowest point I
even allowed myself to imagine that he may never return home. So to see him roll through the front door in
his wheelchair and to act as if he had only been away a few nights was awesome.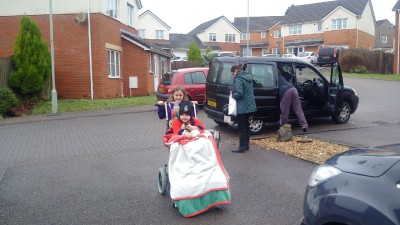 He was able to eat some home cooked comfort food at the table…
although we might need to make some adjustments to ensure he can get a little
closer to his meal… and he was playing WWE15 on the Xbox with D&B.
We also introduced him to what will be his new downstairs bedroom. He was thrilled with the new colour scheme
and even started mouthing off some interior design tips of his own!
I was Cian's escort back to the hospital where the nurses
all wanted to hear about Cian's outing!
We have now settled down after watching some Aquabats and prepare for
what is hopefully an incident free 4th week of radiotherapy!… and
maybe an end to isolation!