Some of you might have already seen that yesterday (Tuesday)
Cian has taken possession of a wheelchair that he can manoeuvre himself.
It is one that belongs to the hospital, but he has been
loaned it until his arrives.
It is incredible to see him whizz around. He has taken to his new mode of transport
very well and I am sure he will welcome his new freedom.
Apart from that Tuesday was quiet. Cian was quite tired. Not sure if that was catching up from a
disturbed night on Sunday, or whether the radiotherapy was starting to take its
toll.
Over the past few weeks I have glossed over his radiotherapy
sessions, as they are quite repetitive and considering that yesterday was
Groundhog Day, it does have that déjà vu feeling like the film of the same
name.
What is starting to become noticeable is the cumulative
effect that the radiotherapy is having on Cian.
As well as getting tired, Cian's skin has now become much
darker at the treated areas and even started to flake and crack in places.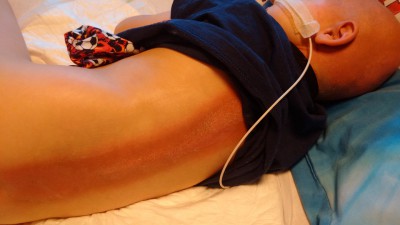 The problem with radiotherapy is that it is not contained to
one specific area and at a certain depth.
So for instance not only is the skin on Cian's spine getting darker, but
it is also making its way through his body to his front. This will cause irritation to his internal
organs which could account for the occasional bad belly and could be
contributing to his cough and sore throat.
Some people have asked me about the proton therapy that has
been in the news recently. This treatment
is more targeted, and therefore would result in much less side effects.
I raised proton therapy at our first consultation, but unfortunately
this had to be ruled out as an option as Cian's condition did not just present
as one solid tumour; but as a tumour on the spine, which had spread in the form
of 'seeds' at varying points of the vein.
To combat the skin condition we have to regularly apply
creams all over Cian's body. Thankfully,
although the skin does look tender and sore in places, Cian hasn't complained
about any pain in these areas.
We have now passed the 2/3rd's point of his
radiotherapy, so I hope Cian doesn't encounter too much discomfort by the end.
There was one turning point in today's radiotherapy, and
that was Cian opted to be in my arms while he was put under General
Anaesthetic. For the previous 21 times,
Cian had chosen mum to be the person who comforted him, and it seemed that even
asking the question was more out of habit rather than expectation of a
different answer.
Also today Cian was kept bust by another tutoring session;
physio which involve Cian standing for longer periods (supported); a visit from
Jasper and his puppet friend; a visit from uncle G who helped play wrestling
(using figures and video games); and an art session with Brian. Brian is the father of a survivor of childhood
cancer, who now devotes some of his time visiting the ward and giving art
classes.
Patients have the opportunity to create some artwork on
canvas, which will be exhibited and auctioned in the future to raise money for
charity.
Bethany and Cian have both produced artwork that will be in
the next exhibition and auction, which takes place in June. I will give everybody prior notice, just in
case you would like to make a bid.
Cian and I have enjoyed another good lads night in, and I must say I look forward to the evenings I spend at the ward.