Another weekend has come and gone, and although it has ended
much too fast, it is another week closer to the end of Cian's treatment.
There is still some confusion over the rest of Cian's
planned treatments as situations change.
When Cian started his treatment for the cancer almost a
month after he was admitted, they had to administer emergency chemotherapy as
he had deteriorated so much. At this
point it was indicated that there would be prolonged treatment as Cian would
not be in a position to cope with any combined chemotherapy and radiotherapy,
and the likelihood was that there would be delays in administering some chemo due
to illness or fatigue.
I think the speed at which Cian has reacted to the
treatments; his body's ability to tolerate and cope; and the level of strength
he has regained, has come as a bit of a surprise to everyone.
So although, Cian will still receive the same doses, and
numbers of treatments that is prescribed in the European Protocol to treat
AT/RT; it may take quicker than first anticipated.
This weekend we were able to enjoy lots of family time, with
treats for everyone.
Due to Cian becoming ill on the weekend of Dylan's birthday
last year, Dylan had not had any opportunity to spend his birthday or Christmas
money; and Bethany had not spent her Christmas cash. Therefore mum took Bethany on a girly
shopping trip on Saturday, while all the lads watched the rugby; and Dylan got
to go out with mum on the Sunday.
The rugby on the Saturday was the Calcutta Cup between
Scotland and England. We were watching
from the room on the ward and the 2 boys were happily cheering on England, as
they were both born in Manchester… but even though my levels of hostility towards
the men in white has diluted considerably over the years, I was still willing
Scotland to win the game.
Sunday included another trip home for us all, and as Cian
was feeling pretty good, I asked whether he wanted to see the Ireland v Wales
game at Llanharan Rugby Club? The answer
was a resounding yes, so Cian, Dylan and I made the short journey to the club
just after kick off.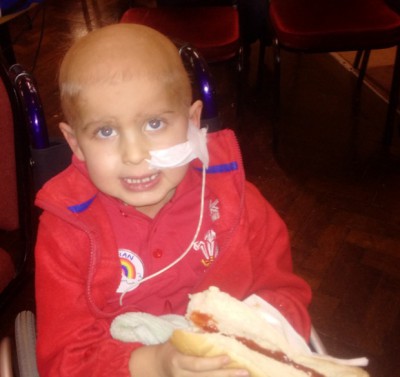 We all thoroughly enjoyed our time down there, and Cian was
pleased so see lots of friendly faces, as were everyone to see him!
A rugby match ending in a draw is frustrating, especially as
I thought Wales had done enough to win after a poor start… but I may be a
little biased… But I was pleased to see my boys cheering on the Welsh even
though they were flying the flag for England 24 hours previous. It will be interesting on which way they go
when England play Wales in a few weeks, but knowing how fickle they usually are
they will just end up supporting whoever wins!
It wasn't too long after the final whistle that Cian and I
had to board the taxi back to Noah's Ark.
Then it was time to get him prepared for bed and the start
of another busy week. Part of that
preparation was to apply the cream to his radiation 'burns', and give him his
meds.
As you can see from the photo, the amount of empty syringes
indicates how much drugs we have to pump into him at any one go… and this is
2-3 times a day!
Anyone who knows how tricky it is getting a toddler to take
one dose of medicine can empathise as to how difficult it would be getting one
to swallow that lot in one go! That's
why the NG tube is such a vital piece of equipment. We are having a couple of issues keeping this
one stuck to his face, so we might get that rectified at Velindre tomorrow when
we kick off week 6 of radiotherapy!