Since my blog on Thursday there has been quite a bit of a
yo-yo situation involving Cian's wellbeing.
He was feeling a bit better over the weekend, although not
soon enough for him to be able to go home and he remained in isolation as a
precaution.
I didn't see Cian over the weekend, as I took Dylan and
Bethany to Essex for the weekend to help celebrate their Great-grandmothers 90th
Birthday. It was a nice break for them
and me, but Cian and mum wasn't far from our minds… especially on Mother's
Day. It didn't seem right for them not
to see their mother on Sunday, but under the circumstances we made the best of
a bad situation. We went to Clacton-on-Sea
and had a walk on the promenade and pier.
Mum and Cian had a few visitors to keep them amused over the
weekend.
Good news on Monday was that Cian had been allowed off
isolation. The downside was that he wasn't
feeling that great and has been spiking the occasional high temperature, which
is being counteracted by regular antibiotics.
He did manage to see a performance from Colin, the magician and balloon artist on Tueday during one of his better times.
He is still not eating or drinking anything orally, which
appears down to his taste buds and appetite being affected by the medications. It has been quite tricky as he has been
receiving 'maintenance fluids' and supplemental liquid feeds, and we have
needed to find a way to give him these without irritating his digestive system
or making him sick.
He has started to take prolonged naps during the day, which
will hopefully be helping him get better, but it does make the day drag. He is certainly not as active as he has been
and not as lively.
One of the nurses mentioned that he has almost become the
ward mascot, so when he is not feeling well, it also lowers the mood of the
staff. Hopefully that will give them the
incentive to get him back on his feet soon.
Due to his lethargy we haven't seen much movement in physio,
although he has been given a new style of walking frame, which when he is
better, I think will give him even greater independence.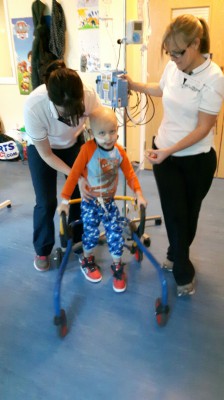 In addition to this, we have now received his new wheelchair
and car seat. The car seat was partly
funded by the generous donations that we have received, but the majority of it
by a charity called Newlife who specialise in providing equipment to the
disabled.
This new equipment will be invaluable in getting us out and
about. No longer will we be reliant on
taxis that can accommodate a rigid wheelchair, so within reason, we can travel
wherever we want.
I am hoping that Cian will be back well by the weekend, so
we have an opportunity to use it all.
Also this week, Cian has been asked on a couple of occasions to show other people his Beads of Courage, which have now grown to quite a substantial size. There are a few little children recently admitted to the ward who are only just starting their own journeys, so it is important for them (and their parents) to witness the positives.